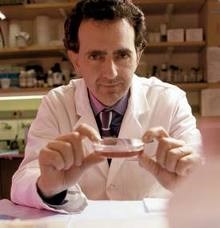 We believe regenerative medicine promises to be one of the most pervasive influences on public health in the modern era.
Malvern, PA (PRWEB) January 08, 2014
TWEET THIS: Anthony Atala, MD to Deliver @SAWCMeeting Spring/WHS 2014 Keynote-Regenerative Medicine: New Approaches to Healthcare http://bit.ly/JFxCPh
The Symposium on Advanced Wound Care Spring/Wound Healing Society (SAWC Spring/WHS) is pleased to present Anthony Atala, MD, as the 2014 Keynote Speaker. His accredited presentation, Regenerative Medicine: New Approaches to Healthcare, will take place on the first full day of the conference, Thursday, April 24 at 3:00 pm ET, at the Gaylord Palms Hotel & Convention Center in Orlando, FL.
Considered a pioneer in the area of regenerative medicine, Dr. Atala focuses on growing new human cells, tissues and organs at the Wake Forest Institute for Regenerative Medicine (WFIRM) in Winston-Salem, North Carolina.
WFIRM is recognized as a leader in the translation of scientific discoveries into therapies to benefit patients. Under the leadership of Dr. Atala, approximately 300 scientists and staff collaborate on regenerative medicine initiatives at the institute, and were the first in the world to engineer laboratory-grown organs that were successfully implanted into humans. WFIRM is currently involved in the full spectrum of activities required to move technologies from basic research to commercialization and the clinic, including clinical trials using scanner/printer technologies to repair and replace damaged tissue.
"We have many challenges to meet, but are optimistic about the ability of the field to have a significant impact on human health," said Dr. Atala. "We believe regenerative medicine promises to be one of the most pervasive influences on public health in the modern era."
As the leading wound healing conference in the country, SAWC Spring/WHS provides a unique venue for the interdisciplinary wound care community to gather, network and learn. The four-day conference is intended for all wound care professionals, including but not limited to physicians, podiatrists, wound care surgeons, nurses, physician assistants, nurse practitioners, occupational therapists, and physical therapists.
SAWC Spring/WHS is produced by the North American Center for Continuing Medical Education (NACCME) and HMP Communications, LLC, the same organizations that produce the Wound Certification Prep Course regional meetings, the most advanced and comprehensive review of wound management, the Wound Clinic Business regional meetings as well as the journals Podiatry Today, WOUNDS, Today's Wound Clinic, and Ostomy Wound Management.
About HMP Communications, LLC
HMP Communications, LLC produces a well-respected collection of one of the nation's most recognizable brands of multimedia healthcare communications. With representation among a variety of key medical arenas, HMP's online, live-event, and print presence is culminated by its delivery of expert coverage across more than 10 healthcare specialties, providing physicians, nurses, and other allied healthcare professionals with the valuable scientific, medical, research, and product information needed to remain appropriately informed within the field. Visit http://www.hmpcommunications.com for more information.
About North American Center for Continuing Medical Education
NACCME, LLC, an HMP Communications Holdings Company, provides the highest quality CME/CE across medical disciplines and therapeutic areas. In conjunction with top medical faculty, NACCME develops evidence-based initiatives that target specific educational needs, assisting healthcare professionals in improving patient outcomes by bridging the gap between current and best healthcare practices. Visit http://www.naccme.com for more information.
Tags: Regenerative Medicine, Atala, Wound Care, Hospital, Clinic, Wounds, Healing, HMP, SAWC