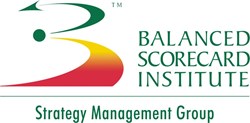 The Balanced Scorecard framework was an outstanding fit for the summit. It addressed the challenging and forward thinking questions from the senior attendees with an execution framework that balances theory and practice of strategic planning.
Cary, NC (PRWEB) January 10, 2014
The conference was organized by Innovation Enterprise, an independent business-to-business multi-channel media brand which is a division of CFO Publishing Company. Over 450 Senior Executives from major corporations and innovative small to medium size companies attended. Mitchell chaired the first day of the program delivering a presentation addressing the major trends and challenges in strategic planning and strategy execution. He challenged the senior attendees to develop strategic initiatives responding to disruptive technology, big data, and the evolution of new business models. Mitchell prescribed three keys to successful strategic management in these turbulent times: clear business alignment, effective performance measures, and employee and stakeholder engagement. On the second day of the conference Mitchell chaired a panel on the key elements of strategy execution. Panel members from Spotify, NASA, SubRosa, and Sid Lee joined Mitchell in expanding on the application of the basic principles of strategic planning in a dynamic interaction session.
About the Balanced Scorecard Institute
The Balanced Scorecard Institute, a Strategy Management Group Company, provides strategic planning, balanced scorecard, and performance management training, certification, and consulting services to government, nonprofit, and commercial organizations. Services include public and on-site courses, facilitation and consulting services, and information and tools used by executives, managers and analysts to transform their organizations into "performance excellence" organizations.
The Institute's website, http://www.balancedscorecard.org, is a leading resource for information, ideas and best practices on strategic planning and management, performance measurement, and balanced scorecard systems. The Institute's Nine Steps to Success™ balanced scorecard framework integrates strategic planning, budgeting, operational planning, performance measurement and strategy execution into a practical disciplined framework for helping organizations achieve higher levels of performance.
Summit URL
http://theinnovationenterprise.com/summits/chief-strategy-officer-summit-new-york