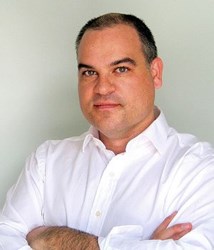 "I am excited to welcome Nick to the executive management team of 1WorldSync," stated Nihat Arkan, CEO of 1WorldSync
Lawrenceville, N.J. (PRWEB) January 09, 2014
1WorldSync, the trusted global network and industry leader in product data management, today announced the appointment of Nick Parnaby as chief marketing and strategy officer, effective immediately. Mr. Parnaby, who formerly held global marketing, sales and product vision roles for GXS Inc., brings two decades of information technology and high-growth startup leadership experience. He will be responsible for global product strategy and marketing functions.
"I am excited to welcome Nick to the executive management team of 1WorldSync," stated Nihat Arkan, CEO of 1WorldSync. "His vision, creativity and ability to execute in a high-growth technology environment, coupled with his background in SaaS platforms and supply chain with longstanding experience in retail and healthcare sectors will help 1Worldsync to define its next generation of products and services in the global market place."
Mr. Parnaby joins 1WorldSync from GXS Inc., MD. where he was responsible for global product and solution evangelism, business development and thought leadership for a suite of business-to-business applications. In this role, he was a member of the senior leadership team responsible for sales performance and market growth. Before GXS Inc., Nick was the co-founder and chief operating officer of RollStream Inc., a category leading enterprise social collaboration platform for engaging, governing and risk management across large trading partner communities. RollStream was acquired by GXS in 2011. Prior to RollStream, Nick was the Chief Marketing Officer at Agentrics Inc., the largest B2B market exchange in the retail and consumer goods industry, formed by the merger of the Worldwide Retail Exchange (WWRE) and Global Net Exchange (GNX). Nick previously spent six years with Computer Sciences Corp., leading business consulting and systems integration projects for Fortune 2000 businesses and Silicon Valley startups.
Mr. Parnaby holds a Marketing MA from the University of the West of England, Bristol UK and is a graduate in Computing & Software Engineering from University of Northumbria, UK. He also is an Advisory Board Member & Investor in two local DC Metro businesses, and founding member of FounderCorps, a non-profit focused on mentoring startup talent.
About 1WorldSync: With more than 15,000 customers across 54 countries, 1WorldSync is the industry leader in global product data management and data pool solutions certified for the GS1 Global Data Synchronization Network(TM) (GDSN(R)). 1WorldSync solutions and services allow companies to share trusted product information with one another and with consumers, driving business and convenience for everyone, all around the world. 1WorldSync is a joint venture of GS1 Germany and GS1 US, which are member organizations of GS1, the organization that develops global standards for identifying, capturing and sharing product information. For more information, visit http://www.1worldsync.com.