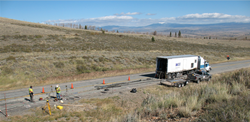 Frost heave not only costs tax payers money, but also costs lives. We are honored and excited to present the results of our testing for the TRB.
Denver, CO (PRWEB) January 11, 2014
Concrete Stabilization Technologies, Inc., announced today that their innovative "Frost Heave Mitigation Using Structural Polymer Injection" project has been selected to be presented at the Transportation Research Board's Annual meeting during the week of January 12th-16th, 2014, in Washington, D.C. This project was developed and completed in partnership with Thomas V. Edgar P.E., Department of Civil and Architectural Engineering at the University of Wyoming, and Wyoming Department of Transportation District Maintenance Engineer, Tim McGary, P.E.
Roy Mathis, Regional Engineer for Concrete Stabilization Technologies, Inc., along with Thomas Edgar, University of Wyoming Department of Civil and Architectural Engineering, will present information on the effectiveness of structural polymer injections into the sub-grade to prevent frost heave beneath roadways and structures. Presentation data is based on a live test area in southwestern Wyoming containing localized frost heave that created dangerous driving conditions for heavy truck and vehicle traffic.
The purpose of this research was to evaluate the effectiveness of using a three inch thickness of a structural polymer injected into the subgrade to prevent frost heave. The site was evaluated over two winter seasons using surface surveying, monitoring temperatures at and measuring water depths in five piezometers. The project test results proved to be successful at minimizing, and in some cases, eliminating frost heave at treated sections compared to adjacent sections that continued to heave.
The TRB Annual Meeting program covers all transportation modes, with more than 4,500 presentations geared towards topics of interest to policy makers, administrators, practitioners, engineers, researchers, and representatives of government, industry, and academic institutions.
About Concrete Stabilization Technologies, Inc.
Concrete Stabilization Technologies, Inc. specializes in concrete lifting, soil stabilization, foundation repair, infrastructure rehabilitation, and roadway stabilization utilizing patented, lightweight, expanding structural polymers. CST is Rocky Mountain's exclusive provider of The URETEK Method® and the URETEK Deep Injection® Process, providing the industry's most innovative, cost-effective, and safest geotechnical solutions for concrete lifting and soil stabilization. Concrete Stabilization Technologies, Inc. currently operates in Colorado, Utah, and Wyoming and is a associated with the URETEK ICR Affiliate Network, a group of exclusive providers located throughout the United States. CST has safely completed more than 85,000 projects leveling, lifting, sealing and stabilizing structures of all sizes for commercial, residential, and governmental clients.
To learn more about their services and processes, please contact:
Concrete Stabilization Technologies, Inc.
8500 East Warren Avenue
Denver, CO 80231
Denver Office: 303-306-9191