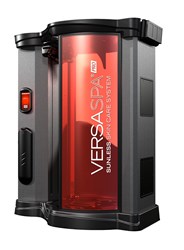 "Escape the Ordinary..."
Denver, CO (PRWEB) January 10, 2014
New VersaSpa Pro™ by Sunless, Inc. - Now at The Grand Palms Tanning Resort & Sunless Spa in Denver, CO
The Grand Palms Tanning Resort & Sunless Spa is proud to announce the newest addition to their line-up of professional sunless tanning equipment, the VersaSpa Pro™ Heated Sunless Spa Series spray tan booth.
The VersaSpa Pro is the newest sunless tanning technology made available by Sunless, Inc., the pioneers of sunless tanning and makers of Mystic Tan®, VersaSpa®, Evolv.®, and their latest introduction, the VersaSpa Pro™ Heated Sunless Spa Series™.
The Grand Palms Tanning Resort & Sunless Spa is the only tanning salon in Denver to offer all three sunless tanning options from Sunless, Inc. (VersaSpa Pro, Mystic Tan HD and Evolv).
"We are constantly staying ahead of our competition by always delivering the very latest in sunless technology to our clients," said Keith Rodenberger, owner of The Grand Palms Tanning Resort & Sunless Spa, "and with our most recent addition to our sunless tanning line-up, a state-of-the-art application system like the VersaSpa Pro, which is the newest breakthrough in heated sunless spray tanning, is why our clients experience the finest sunless tanning results imaginable every visit to The Grand Palms".
Designed with a multitude of revolutionary features, the new VersaSpa Pro Heated Sunless Spa Series spray tan booth delivers the experience you would expect from a true professional custom air brush tan every time, but with the privacy of a spray booth and with sunless tanning results that are consistent, personalized and flawless.
With four sunless tanning color levels to choose from (Glow, Light, Medium or Dark) and other skin treatment options available, including Pre-sunless Skin Prep and Post-sunless Super Hydrating Moisturizer, clients can enjoy endless sunless tanning combinations each time they experience the VersaSpa Pro. Clients can even customize their VersaSpa Pro session to provide them with extra dark legs or face!
This is no ordinary sunless booth. The brand new VersaSpa Pro combines innovation after innovation to transform your skin in just minutes. Bronze, Hydrate and Smooth fine lines in one session. Customize your tanning application by selecting one, or combining all three full-body treatments – a pre-sunless pH balancing skin prep treatment, one of two sunless bronzing treatments, and a post-sunless super hydrating treatment. Enjoy the process as much as the results and relax with a wide-open and heated interior design.
OTHER EXCITING FEATURES OF THE VERSASPA PRO:

Next generation spray technology delivers consistent sunless tanning spray application to ensure a flawless tan every time.
Heated Sunless System pampers users with a comfortable, spa-like experience.
Height Sensor Technology ensures pinpoint accuracy and full coverage for all body types, including clients who only want to tan their legs or face.
Built-in intelligence literally talks clients through the sunless tanning experience with voice guided instructions and additional visual instructions if needed.
Ability to upgrade each session, including adding additional sunless tanning applications, additional skin treatments, or color boosts for legs or face.
Endless customization options, with four sunless tanning color levels that range from a hint of color to a deep, rich dark bronze, and other skin treatments, which include skin prep and moisturizer, The VersaSpa Pro can meet the demands of all skin types and desired sunless tanning results.
In summary and quite simply, the VersaSpa Pro delivers flawless, long-lasting, so-good-it-looks-like-Mother-Nature color via a heated application that makes every sunless tanning session feel like a warm, inviting spa-like experience that you'll want to return to again and again.
ABOUT THE GRAND PALMS TANNING RESORT & SUNLESS SPA
With corporate headquarters in Greenwood Village, CO, The Grand Palms Tanning Resort & Sunless Spa, which now has five luxurious locations throughout Denver, has been revolutionizing the indoor tanning industry since its inception in 2003.
Guests at The Grand Palms find themselves transported to a lush, tropical environment where, as they tan, they can enjoy spa-like amenities and escape the harried pace of their everyday lives.
Offering the finest luxury tanning beds in the world, including the most advanced custom sunless spray tanning options and Red Light Therapy skin rejuvenation beds - guests are assured the absolute best in tanning technology, safety and results available on the market today.
The Grand Palms Tanning Resort has established a notable celebrity following, and is the only tanning salon in all of Colorado to be chosen as the official tanning resort of The Denver Broncos Cheerleaders, The Colorado Mammoth Wild Bunch, The Colorado Avalanche Ice Girls, The Denver Nuggets Dancers and The Denver Outlaws Dance Team. And with good reason.
The high-end technology, interior decor and ambience of The Grand Palms five Denver-area luxurious locations are unlike any other tanning salons in the world. From its unique, upscale island resort atmosphere, to its industry-leading German and Italian manufactured tanning beds assuring total user comfort and amazing tanning results, to its newest and most advanced VersaSpa Pro, Mystic Tan HD and Evolv custom sunless tanning systems, to its steadfast dedication to providing a luxe spa-like experience with impeccable customer service to each and every guest, The Grand Palms Tanning Resort stands alone amid the indoor tanning industry.
Inside The Grand Palms guests experience a massive cascading waterfall and rock cave entrance, exotic tanning bungalows with authentic thatch roof, an immense theater wall displaying beautiful ocean and sunset images, imported bamboo, granite, custom tile finishes, and custom rock flooring. Each private tanning bungalow is elegantly appointed with all of the amenities guests need – essential personal items, fresh towels, protective eyewear, a private CD stereo and iPod input with personal stereo headset, and an alternate "ESCAPE" headset allowing guests to listen to the soothing sounds of ocean waves while enjoying their tanning experience.
Website: http://www.TheGrandPalmsTanningResort.com
Facebook: http://www.Facebook.com/Tanning.Denver
Twitter: @palmstanning