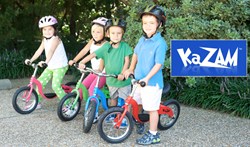 KaZAM made me think of my kids, and the whole process of teaching them how to ride a bike. It really hit home. - Mark Cuban
Virginia Beach, VA (PRWEB) January 09, 2014
Entrepreneur Mark Beth of KaZAM and Mark Cuban teamed up for an interview with Deborah Roberts on ABC's 2020, December 20th, 2013 to discuss life and success after 'Shark Tank' - http://abcn.ws/1dYFOUH.
After swimming with the Sharks on ABC's hit television show Shark Tank, KaZAM's Mary Beth Lugo sits down with Mark Cuban and Deborah Roberts to share her entrepreneur story and experience on Shark Tank. Mark Cuban, always dynamic and energetic, describes why he invested in KaZAM and what makes a company successful. Mary Beth recaps her Shark Tank experience and challenges of balancing family life and entrepreneurship.
In 2014, Mary Beth expects a busy year for KaZAM starting with the New York Toy Fair in February. Lugo states, "we want the KaZAM in every household in America providing kids with a fun and active way to get exercise learning the fundamentals of learning how to ride a pedaled bike".
Designed without pedals, the KaZAM bike allows little riders to develop their balance before introducing pedaling making the transition onto traditional bikes seamless. After all it's the balance that's the tough part, pedaling is easy! Say goodbye to training wheels and skinned knees. "Sit – walk – glide – coast – balance – KaZAM!"
About KaZAM
KaZAM is a Virginia Beach company that created the first balance bike with a patented foot rest for children aged 3-6 years to learn how to ride without the use of training wheels. Kazam partnered with Mark Cuban in 2013 via the hit ABC show Shark Tank. For more information on the award winning KaZAM, please visit: http://www.kazambikes.com.
CONTACT
Mary Beth Lugo
KaZAM LLC
757-201-0030
info(at)kazambikes(dot)com