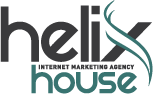 Helix House is a progressive and forward-looking Internet marketing agency.
Phoenix, AZ (PRWEB) January 09, 2014
Helix House, a cutting edge Internet marketing organization that has an extensive background in all facets of Internet related marketing announces its latest nomination for potentially being the number one Internet marketing organization in the state of Arizona. BestCompainesAZ.com is an expertly qualified organization that helps determine which companies in the state of Arizona produce some of the best hiring opportunities as well as offer some of the best products and services throughout the state. BestCompainesAZ.com also routinely hosts a number of local events and networking opportunities for businesses wishing to gain better acknowledgment in Arizona business circles.
BestCompainesAZ.com carefully tracks Arizona's most admired and award-winning companies to develop a list of top performers. The company nominates and awards companies that are considered the best in class and category for a wide range of services and products throughout the state. Each year companies are recognized as the top in their category based on a number of variables. Award-winning companies that are considered best companies to work for in the state are routinely identified through BestCompainesAZ.com. Helix House has consistently proved itself as a top-tier Internet marketing agency, so this nomination by BestCompainesAZ.com actually comes as little surprise to many.
The top companies to work for in Arizona routinely appear in publications made available by BestCompainesAZ.com. This helps business owners, individuals and other businesses to identify companies of notoriety.
Helix House is a progressive and forward-looking Internet marketing agency that focuses on a wide range of search engine optimization strategies, social media marketing strategies, text and e-mail marketing strategies as well as a host of other important Internet marketing services. The company has a wide variety of tried and tested techniques, technologies and strategies all designed to help propel businesses into better search engine ranking. This recent nomination of Helix House by BestCompainesAZ.com is just one more example of how a highly successful company continues to expand its sphere of influence.
Helix House is a highly innovative forward looking online marketing agency located in sunny Arizona and breezy New Mexico that has consistently exceeded industry expectations to routinely rank highest among some the best online marketing companies in the country.