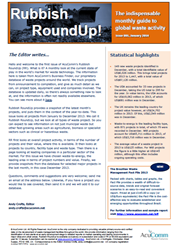 Rubbish RoundUp! marks a timely step change in waste management business information.
UK (PRWEB UK) 9 January 2014
AcuComm Waste Futures has announced the launch of an important new monthly information service called Rubbish RoundUp! (http://www.acucomm.net/rr).
The issue of how to deal with the world's growing levels of waste is seeing unprecedented levels of investment in waste processing plants and capacity. Increasingly, those charged with providing waste management services are turning to leading operators and equipment companies for the most advanced solutions. Waste management, more than ever, is an international business.
As the market matures, there is an increasing need to better understand market trends and the competitive operating environment. That requires timely, original data to provide both market access support and greater understanding of the strategic and tactical trends. That information has not been available in any up-to-date or structured format – until now.
Published monthly, Rubbish RoundUp! is a business publication which provides key waste industry trend data that cannot be found in any other source. The information is aggregated from AcuComm's leading Waste Business Finder database that reports all new significant waste developments worldwide – a unique source of primary research information.
Rubbish RoundUp! provides analysis and detailed statistics for the latest projects by country, completion date, facility type and feedstock. A section on companies brings focus and rankings to company activity by facility type. Finally, specific summaries are given for major projects reported.
Announcing the launch, Eric Wigart, Chairman of AcuComm comments, "Rubbish RoundUp! provides a completely unique and important perspective on waste development activity. For the first time, waste operators and equipment manufacturers are able to see every month where new business is being initiated, and see their own plans in the perspective of ongoing developments. More importantly, our research team ensures comprehensive coverage of the market, with enhanced information and including developments not readily identifiable in the public domain. Rubbish RoundUp! marks a timely step change in waste management business information."