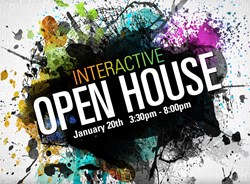 'We are always excited to go into the community to introduce people to the field of digital arts and the amazing opportunities that exist for graduates.' - Laureen Redman (Campus Director)
Kelowna, B.C., Canada (PRWEB) January 10, 2014
Canadian Digital Art School - The Centre for Arts and Technology is proud to offer presentations geared towards Grade 11 and 12 students as well as mature students who are considering careers in the digital arts. Presentations about animation, digital photography, filmmaking, graphic design, audio engineering, and other digital arts will take place, led by experts and instructors in these fields. A full schedule of presentations and presenters will be posted prior to the event on our website HERE.
Following the presentations at Orchard Park, Centre for Arts and Technology will open its doors for an Interactive Open House, on Monday, January 20th from 3:30pm to 8:00pm. Guests will have an opportunity to learn about the digital arts programs offered at Centre for Arts and Technology's Kelowna Campus, as well as speak with faculty, program advisors, financial advisors, and school administrators.
Everything from upcoming events, new programs, and scholarship opportunities will be discussed. There will also be an information session about the school's Elite Digital Bootcamp, a popular 5-day educational experience held each March during spring break. The event provides hands on learning experiences for Grade 11 and 12's interested in post-secondary education in digital arts fields.
Laureen Redman, Campus Director, said: "We are always excited to go into the community to introduce people to the field of digital arts and the amazing opportunities that exist for graduates as Kelowna evolves as a hot bed for digital media and entertainment. We've put together some fantastic presentations this year, featuring top talent in the popular animation, graphic design, photography, filmmaking, and digital marketing sectors. Following the event at Orchard Park, we look forward to welcoming everyone to our school to see the creativity first-hand and our unique learning environment as well as a showcase off the incredible accomplishments of our students."
Event Details:
Orchard Park Shopping Centre Interactive Booth – Sky Court
2271 Harvey Ave, Kelowna, BCV1Y 6H2
Thursday, January 16th – Saturday, January 18th
Full schedule of activities and presentations available here:
http://www.digitalartschool.com/calendar-events/interactive-booth-orchard-park-mall
Interactive Open House
Centre for Arts and Technology Kelowna Campus
Landmark Technology Centre III, Suite 100 - 1632 Dickson Ave., Kelowna, BC V1Y 7T2
January 20th
3:30 PM – 8:00 PM
http://digitalartschool.com/calendar-events/kelowna-interactive-open-house2014
Centre for Arts and Technology delivers fully accredited certificate and diploma programs across a variety of arts and technology disciplines. The Kelowna campus features two contemporary recording studios and a film production studio, in addition to extensive digital video, motion graphics, digital media, digital effects, fashion design, and animation labs. More information about the programs offered is available at http://digitalartschool.com.
Media Contact
Tyler Finley
Marketing Coordinator
Centre for Arts and Technology
250.860.2787. ext. 6152
tfinley(at)digitalartschool(dot)com