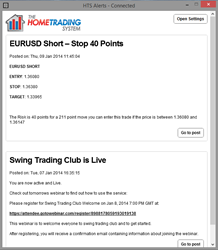 The Home Trading System was created many years ago to allow Chris and myself to trade whilst in full time work, I think this is why it has such a big appeal to traders.
London (PRWEB UK) 20 January 2014
The Indicator Guys have announced their exciting plans for 2014. They are a well established company that have been selling their trading system and trading indicators for a number of years now. Their range of products has helped many traders become consistent and profitable traders over the years. The Indicator Guys are always striving make their customers as profitable as possible and the plans announced today make it clear that 2014 will be the most exciting year yet for the Indicator Guys and their customers.
Firstly Swing Traders Club has been open since the start of the year. This is a subscription based service where the experienced traders in the office use the Home Trading System to tell the members exact signals. Traders are told exactly when to enter the trade, where to take profit and even where to place their stop loss. These traders have a combined experience of over 20 years. They literally do all the hard work for you. The traders aim to send up to 5 signals a week and expect to make 30 points a day from the trades they take. Fantastic support is also provided to ensure the members are never on their own. Members are actively encouraged to contact the support team and ask any questions they may have. This makes Swing Traders Club an educational service as well as a signal service. For added peace of mind a live webinar takes place every week. The webinars start by reviewing the past weeks trading and also look ahead to the following week to see what trades may be setting up. Members also get a chance to ask any questions they may have and the support team is on hand to answer these questions immediately The feedback has been very positive so far and it is clear the customers find this invaluable and enjoyable. The simple concise signals in particular has been highly praised.
When asked why Swing Traders Club is proving so popular Michael Fasani said, "The Home Trading System was created many years ago to allow Chris and myself to trade whilst in full time work, I think this is why it has such a big appeal to traders". This is certainly true. The Indicator Guys noticed that many of their customers had full time jobs or limited time to trade, so they designed their system so customers only needed to spend a short time at their screen every day.
A live webinar is also held for people interested in purchasing the Home Trading System. This is a great opportunity for customers to see why the Home Trading System has been such a popular and profitable product for their customers. Again the support team is on hand to answer any questions. The webinars are proving very popular and more and more people are attending every week.
The Indicator Guys are also excited to announce that there will be a range of new trading indicators out for 2014. A team of beta testers has been assembled to ensure these new indicators are of the highest quality and give the most accurate accurate signals possible. The feedback so far has been very positive. Ian, one of the beta testers and long term customers said "I have been using the Home Trading System and many of the Trading Indicators for a number of years now. They really turned my trading around and I now trade with a very high success rate. I could never imagine getting close this level without the Home Trading System or the Trading Indicators. My favorite Indicator is probably the Value Chart. Having got an exclusive look at some of the new indicators I know 2014 will be an exciting year. The Indicators are getting better and better and I cant wait to see what comes out next".
The popularity of the Indicator Guys has meant they have added to their support team yet again. Bryan heads the support team
Last year the Indicator Guys expanded their range of trading computers and the popularity of these continue to grow in 2014. Chris is responsible for managing the trading computer team. He is always keeping up to date with the latest technology to ensure his team build the best trading computers possible with the most reliable and most up to date technology.
For further information on the Indicator Guys, their ever-growing team, new range of trading computers or Swing Traders Club, please contact them via their website on http://www.theindicatorguys.com/contact-us/, where all details on telephone numbers, postal address, directions and email have been included. Any further news on other items of news in relation to the company and their traders will be shared there too.