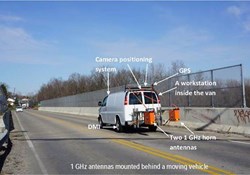 Rii, a national leader in detecting subsurface conditions, has extensive experience conducting GPR surveys in general, and bridge deck GPR surveys in particular.
Columbus, OH (PRWEB) January 09, 2014
Resource International, Inc. (Rii) is one of the few firms across the US that uses Ground Penetrating Radar (GPR) to identify and locate delaminations in bridge decks and substructures. Unlike other inspection methods, GPR does not require lane closures since all surveys are completed at highway speed. Rii uses equipment manufactured by Geophysical Survey Systems, Inc. (GSSI), the world's leading manufacturer of GPR, whose antennas feature the highest signal-to-noise ratio of any antenna available in the industry, providing the highest quality data with clear and accurate results. Our survey vehicle is equipped with GSSI SIR-30 radar system and two 1 GHz air-launched antennas attached to the rear of a van on an adjustable mounting system.
Different methods of delamination detection such as Chain Drag, Hammer Sounding, Half-Cell Corrosion Potential, Impact Echo, Infrared Thermography and GPR have been used through the years to assess the conditions of reinforced concrete bridge decks. All of them have potentials and limitations. However, most of the transportation agencies are primary concerned by the speed of data collection. GPR can be performed at highway speed, while the rest of the methods mentioned require lane closures or at most slow-moving mobile lane closures. GPR has become a means of locating areas of delamination on bridge decks with asphalt overlays, bridge decks overlaid with Portland cement concrete, and decks without an overlay. Data gathered is processed and interpreted by certified engineers, and translated into scaled plan view drawing showing deck delaminations. A report is prepared and describes the work completed, the techniques and equipment used, the results obtained (including schematic layouts) and interpretation of the results based upon GPR. The total area of the deficiencies as square footage and percentage is also calculated.
Rii, a national leader in detecting subsurface conditions, has extensive experience conducting GPR surveys in general, and bridge deck GPR surveys in particular. Rii's NDT Team understood very early that the preferred method for identifying regions where deck deterioration is taking place, and using that information to guide evaluation, is GPR. The Team has used GPR for more than ten years and has acquired a strong experience in interpretation of the data and the problems that may arise when working with this type of systems. Since 2002, Rii has surveyed more than 15 million square feet in bridge decks including bridges such as the Santa Monica Viaduct, the San Francisco-Oakland Bay Bridge, the Richmond-San Rafael Bridge, the Vincent Thomas Bridge, the Harry Nice bridge and the Brent Spence bridge, to name a few. Rii has recently completed subsurface investigations for 33 bridge decks in Ohio's northwest region. As part of the GPR data collection, visual inspection data, augmented with high resolution video, were collected to allow for subsequent mapping of deck surface and floor conditions.
About Resource International, Inc.
Resource International, Inc. (Rii) is a broad-based, multi-disciplined professional engineering consulting firm specializing in construction management, information technology and planning and design of building and infrastructure projects valued in excess of $1 billion annually.
This family-run business has evolved over the years to assist public and private clients in finding optimum solutions to improve their environment and infrastructure. Our specialized equipment, technology and resources offer the best solutions.
Companywide, Rii has a vast pool of employees engaged in transportation planning, design, and construction services. Rii's Corporate Office is located in Columbus, Ohio, with full-service branch offices in Cleveland and Cincinnati, Ohio; Pittsburgh, Pennsylvania; and Indianapolis, Indiana.