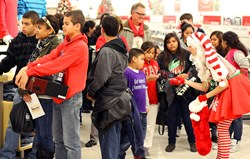 Southlake, TX (PRWEB) January 08, 2014
It's that time again – the start of a new year. This is a good moment to reflect on the last 12 months and marks a time of change and resolutions.
At Kids Matter International, the New Year is a time for both reflection and resolutions. Kids Matter International has had a lot to be thankful for in the last 12 months. As a charity, Kids Matter International is surrounded by good people doing great things for children in need. Their mission of helping children in crisis continues to grow inside the hearts of their partners, volunteers, Board of Directors, staff and supporters around the world. It has been a grace-filled, life-changing year for which Kids Matter International has been very grateful.
Kids Matter International has made simple and constant resolutions for 2014: to continue to spread awareness about the children in the community that are in endless need of help and to increase their supporters in their efforts to change and impact more children and families. As each new year approaches, some people look for sources of inspiration. Kids Matter International hopes the children can be their inspiration to do better.
Kids Matter International continues to see an overwhelming amount of disadvantaged children who are in need of clothes, food, school supplies, educational programs and other necessities. Each year they try to expand their programs to reach more children with the help of donations and fundraising events. Fundraising efforts kick off in February with the Fruit of the Vine Gala. This event sets the stage for the rest of the year and allows Kids Matter International programs to grow. It is an evening to reflect and celebrate the impact these programs have had on children and communities and to remember that the work to help the children is never done.
This year's Fruit of the Vine Gala will transport guests to glamorous Monte Carlo. The dazzling evening will feature a seated French gourmet cuisine dinner, premium cocktail bars, casino, silent and live auction and live entertainment. The Gala will be held on Friday, Feb. 21, at The Hilton Southlake Hotel. For more information on the event, visit http://www.kidsmatterinternational.org.
About the Company:
Kids Matter International is a not-for-profit 501(c)(3) dedicated to serving the needs of disadvantaged children around the world. KMI operates or partners with charities and communities in the United States, India, Honduras, and the United Kingdom. Kids Matter International was founded in 2006 in the manner that many non-profits are – good people see a need in the community and decide to serve that particular need. What sets KMI apart is the extent of influence the volunteers and board members have had on the local and international community in just the few short years it has operated. To learn more about Kids Matter International, visit http://www.kidsmatterinternational.org.