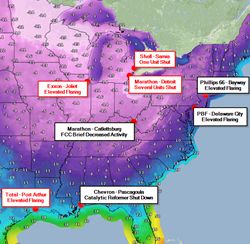 Louisville, KY (PRWEB) January 08, 2014
Just as people throughout the United States continue to be affected by extreme cold temperatures, so do major oil refiners. Since January 6, there have been four incidents at major refineries directly linked to the cold weather.
At Detroit, MI, the temperature dipped as low as -12 degrees Fahrenheit. Due to this extreme cold, several units were shut down at Marathon's 120,000 barrels per day Detroit refinery, the company told Reuters. Genscape observed the shutdown of the refinery's 35,000 bpd FCC and also detected decreased activity from the 34,000 bpd naphtha hydrotreater. Yesterday, the refinery was beginning the process of restarting the affected units, according to the Reuters report.
North of Detroit, Shell shut an unspecified unit at its 75,000 bpd Sarnia refinery for minor repairs due to the weather, Reuters indicated. Elevated flaring has been observed at the refinery since January 6.
Temperatures in the Chicago area were even colder, as highs throughout the region struggled to exceed -10 degrees Fahrenheit. The 238,600 bpd Exxon Joliet refinery, which is in the Chicago area, experienced significant elevated flaring January 6 due to problems at process units caused by the cold, according to an NRC filing. Despite the flaring, the company has reported to Reuters that all refinery units remain operational.
The cold has even had an effect on refiners as far south as Texas, as Genscape observed significant flaring at Total's 174,000 bpd Port Arthur refinery on January 6. The flaring was caused by a loss of high pressure steam due to the freezing weather conditions, according to a TCEQ filing.
In addition to these events, there have been several other incidents at eastern U.S. refineries since the cold invasion began where the cause is currently unknown and could be weather-related. On the East Coast, Genscape observed flaring at the 238,000 bpd Phillips 66 Bayway and 182,200 bpd PBF Delaware City refineries, while on the Gulf Coast the 55,000 bpd catalytic reformer at Chevron's 330,000 bpd Pascagoula refinery was shut down yesterday. In the Mid-Continent, activity from the 98,800 bpd FCC at the 212,000 bpd Marathon Catlettsburg refinery was briefly decreased yesterday.
The following map contains all the events at Genscape-monitored refineries over the past two days along with the low temperatures mid-day yesterday. The red-labeled events have been confirmed as weather-related, while the cause of the black-labeled events is currently unknown.
Genscape's Refinery Intelligence Service offers the most extensive and up-to-date look at the daily status of refinery operations in the United States using its proprietary monitoring technology. Clients achieve a comprehensive view of refinery utilization and gain insight into real-time supply and demand. A free trial of the Refinery Intelligence Service is available by visiting: http://info.genscape.com/frigid-refinery
About Genscape
Genscape is the leading global provider of real-time data and intelligence for commodity and energy markets, driven to improve market transparency and efficiency. With thousands of patented monitors strategically deployed worldwide, Genscape is unique in its ability to collect and report proprietary market fundamentals in real-time or near real-time. Genscape delivers innovative solutions across a number of asset classes including: Oil, Power, Natural Gas and LNG, Agriculture, Petrochemical and NGLs, Maritime, and Renewables. Genscape clients often gain first-mover advantage, improve risk management, or increase operational efficiency. For more information, please visit: http://www.genscape.com
For all press inquiries please contact:
Molly Hislop
Marketing Communications Manager
Office: +1 617 790 0903
mhislop(at)genscape(dot)com