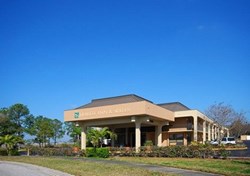 We want all our customers to feel special and satisfied at all times.
Clearwater, FL (PRWEB) January 09, 2014
Greenbee Parking, a fast growing airport parking service, has just announced a strategic partnership with Quality Inn & Suites in Clearwater that promises to revolutionize the airport parking experience here. Now travelers using the Clearwater St. Petersburg (PIE) airport can not only enjoy great discounts and cheap rates for parking their cars here, but they can also expect secure spots. Now with the amazingly affordable Clearwater long term airport parking rates they can see anything between 30-75% difference in their parking and overall travel costs. All they have to do is book through the Greenbee website which will assign them a spot in the Quality Inn & Suites parking lot. From there they can take the shuttle to the airport, relaxing all the way.
"We want all our customers to feel special and satisfied at all times," said Christine Cooper – Marketing Coordinator, Greenbee Parking. "Partnerships, like the one we have just inked with Quality Inn & Suites, ensure that our goal of 100% customer satisfaction can be easily met. The Clearwater long term airport parking rates will go a long way to further seal this great service experience and show them what really makes the Greenbee edge."
St. Petersburg-Clearwater International Airport Parking Information
St. Pete–Clearwater International Airport is located at the heart of the Tampa Bay and is the preferred alternative airport for Tampa International Airport (TPA). It is located strategically close to the central business district of St. Petersburg, the city of Clearwater and the surrounding Tampa Bay Area. Moreover, it is used for both public and military use which keeps the airport busy round the year. Thus for a mid-sized airport is sees a lot of traffic and has seen an impressive 8.54 % rise in enplanements in 2011 to a figure of 417,223, as per FAA records. Increasing business has categorized the airport as a major commercial airport and included it in the National Plan of Integrated Airport Systems for 2011–2015. It is choice for low cost carriers headed for the Tampa tourist attractions and Vegas, and the key airport for the Pinellas County. Greenbee Parking is working hand in hand with the airport authorities to expand the parking services and aid in airport amenities improvement. Their recent partnership with Quality Inn & Suites here will offer secure and affordable parking options at distance from the airport. This was travelers can avoid the mad rush, get safer spots and also save 30-75% on their usual parking expenses with the cheap new Clearwater long term airport parking rates.
The Greenbee Airport Parking Solution
Greenbeeparking.com is the connection between consumers and parking vacancies in close proximity to major airports and seaports. The parking spaces are very affordable because the company has negotiated discounted rates with major hotel chains for the parking spaces that are not currently occupied. Here's how it works.
Greenbee Parking puts the available inventory of parking spaces on their website to be reserved by business and leisure travelers looking for cheap airport parking. This alternative method for finding parking equates to significant savings for the traveler. You can learn more about their offers from (http://www.youtube.com/watch?v=WWLybHNYjYQ) or via the web at (http://www.greenbeeparking.com).
About Greenbee Parking
Greenbee Parking is the nation's most innovative long term parking company, with a new way of making long term parking affordable. The company is rapidly adding new airports to its network.