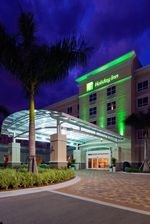 We want our customers to know that great services can easily come in affordable prices.
Fort Myers, FL (PRWEB) January 13, 2014
Greenbee Parking, a rising airport parking service, has just announced their latest parking deals which promise to negate all need for Fort Myers airport parking coupons from now on. Travelers using the busy Fort Myers (RSW) airport will no longer have to frantically look for deals and coupons to get some relief from steep travel expenses. Greenbee's innovative parking options, which include spots off site from the airport, will now ensure that they get great savings options round the year without special promos and coupons. Greenbee's regular prices offer benefits that others can only offer on special occasions, a bonus that has made the young brand a great favorite already. With these innovative offers one can expect to save 30-75% on their regular travel budgets.
"We want our customers to know that great services can easily come in affordable prices," said Christine Cooper – Marketing Coordinator, Greenbee Parking. "Furthermore, one has no need to look for special events or hunt around for Fort Myers airport parking coupons to save on their travel expenses. With us saving on such costs is as easy as a pie, round the year."
Southwest Florida International Airport Parking Information
Southwest Florida International Airport is located in the South Fort Myers region of Lee County and is a very busy one. It serves multiple regions like Fort Myers, Cape Coral, Sanibel Island, Marco and Captiva Island, Naples and Bonita Springs, in and around Southwest Florida. The airport is noted for being one of the ports of entry for the U.S. Customs and Border Protection. The total number of passengers handled in 2011 was 7,537,745 which make one of the busiest single runway use here than many other airports in the country.
The authorities are focused at constantly improving and upgrading the facilities here so that travelers can have comfort and a great travel experience every time. They are further aided in their efforts by private service providers like Greenbee Parking who stormed into the scene with their innovative parking options. Now travelers can enjoy massive savings options, almost 30-75%, whether they are booking for a short term or for a longer duration. In fact, Greenbee Parking has confidently claimed that with their out of the box deals their customers will longer feel the need to look for Fort Myers airport parking coupons to save money.
The Greenbee Airport Parking Solution
Greenbeeparking.com is the connection between consumers and parking vacancies in close proximity to major airports and seaports. The parking spaces are very affordable because the company has negotiated discounted rates with major hotel chains for the parking spaces that are not currently occupied. Here's how it works.
Greenbee Parking puts the available inventory of parking spaces on their website to be reserved by business and leisure travelers looking for cheap airport parking. This alternative method for finding parking equates to significant savings for the traveler. You can learn more about their offers from (http://www.youtube.com/watch?v=WWLybHNYjYQ) or via the web at (http://www.greenbeeparking.com/FLORIDA/RSW).
About Greenbee Parking
Greenbee Parking is the nation's most innovative long term parking company, with a new way of making long term parking affordable. The company is rapidly adding new airports to its network.