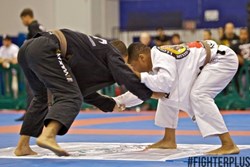 "This is a great chance for Timmy to fight and beat some of the best Black Belts in the World, as a Brown Belt!"- Coach Julius Park
Columbia, MD (PRWEB) January 08, 2014
Timothy-Michael Spriggs will be competing in the Copa Pódio de Jiu-jitsu, an Invitational event in Brazil on February 1, 2014.
Spriggs, a resident of Columbia, MD, is an instructor at Crazy 88 Brazilian JIu-Jitsu and ranked as a Brown Belt. Despite only receiving his Brown Belt in June of 2013, Spriggs is considered one of the best up-and-coming prospects in the World - having recently gone undefeated at the Brown Belt Grand Prix at the World Jiu-Jitsu Expo. As a Purple Belt, Spriggs was 2x Pan-American Champion, No-Gi World Champion, and Abu Dhabi World Pro Champion, along with a multitude of Minor IBJJF titles.
The Copa Podio of Jiu-Jitsu is a professional tournament that gathers fighters specially invited to the event. The format of the competition is of a Grand Prix (GP) divided into three phases, totaling 24 matches over 4 hours. Each competitor is placed into a group of five total athletes who will all face one another. The top two of each group then pass on into the semi-finals where they will face the competitors from the other groups in a single-elimination tournament format to crown a Champion. Previous participants have included such notables as Rodolfo Vieira, Leandro Lo, and Braulio Estima among others.
"This is a great chance for Timmy to shine on the big stage. We've been working hard on his judo and passing, which have been his strengths, but we haven't been neglecting his guard either," notes Crazy 88 Coach, Julius Park.
"This is a great chance for Timmy to fight and beat some of the best Black Belts in the World, as a Brown Belt!"
Crazy 88 Brazilian Jiu-Jitsu operates 3 training centers throughout the Maryland area. Classes are offered for adults as well as children, and include Mixed Martial Arts, Muay thai Kickboxing, as well as Brazilian Jiu-Jitsu and grappling. For more information, please visit http://www.Crazy88BJJ.com
Copa Podio de Jiu Jitsu will take place on February 1st in Rio De Janeiro, Brazil. The event will be streamed live. You can find more information on their social media page: https://www.facebook.com/copapodio.gppesados.