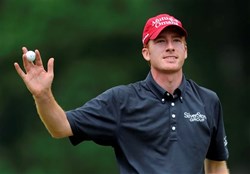 What an incredible investment to be making in the lives of so many children!
Omaha, NE (PRWEB) January 09, 2014
SilverStone Group and Roberto Castro are partnering to benefit Camp Twin Lakes in 2014. SilverStone Group is entering its third year of sponsoring the rising PGA Tour star, who had a breakout year in 2013. Castro had four top 10 finishes, qualified for all four playoff events and finished 21st in the final FedEx Cup standings.
SilverStone Group believes success and philanthropy go hand in hand. "We feel that part of the license to do business in America includes a responsibility to give back," commented John H. Nelson, President. The SilverStone / Castro collaboration "Birdies 4 Charity" was conceived nine months ago at a meeting at the Golf Club of Georgia, Castro's home course.
Established over 20 years ago in Roberto's hometown of Atlanta, GA, Camp Twin Lakes provides an opportunity for children with serious illnesses, disabilities and other personal challenges to experience life-changing camp retreats and programs. These activities are designed to increase confidence and help empower youth to overcome obstacles. The camp has served over 50,000 children and volunteers, and 9,100 campers will participate in a camp experience this year. Camp Twin Lakes provides weeklong summer camps and year-round weekend retreats at three fully accessible and medically supportive campsites and day camps, and through hospital-based Camp-To-Go programs. Learn more about Camp Twin Lakes by visiting http://www.camptwinlakes.org.
Jessie Rosenberg, Director of Development at Camp Twin Lakes said, "We are thrilled to partner with Roberto Castro and SilverStone Group to provide life-changing camp experiences for Georgia's children with serious illnesses, disabilities and other life challenges. SilverStone Group's generous donation of $100 for every birdie that Roberto makes in 2014 will go directly toward camper scholarships. What an incredible investment to be making in the lives of so many children!"
Castro made over 350 birdies in 2013. Follow the action each week by visiting the website http://www.birdies4charity.com, following @Birdies4TL on Twitter and "liking" Birdies 4 Charity on Facebook.
Headquartered in Omaha, Nebraska, SilverStone Group is a privately held, employee-owned firm that provides risk management, employee benefits, human capital consulting and financial planning services to employers and individuals throughout the United States.