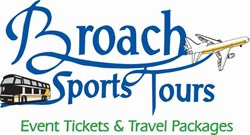 The atmosphere will be great.
Charlotte, N.C. (PRWEB) January 09, 2014
Broach Sports Tours will take a group of Carolina Panthers fans to Seattle for the NFC Championship game should both teams win their playoff games this weekend, president Tom Broach has announced.
Broach is offering a three-day, two-night package that would include roundtrip airfare, game ticket, two nights hotel accommodations at the Crown Plaza in downtown Seattle, tailgate party before the game and more, with options to upgrade seats or other amenities.
The tour would depart Charlotte on Friday morning, Jan. 17 and would return on a redeye after the game on Sunday, Jan. 19, arriving back in Charlotte on Monday morning, Jan. 20. Flights from Raleigh and Greensboro are also available.
"We don't want to jinx the Panthers, but we do want to be ready so that when they beat the 49ers on Sunday we're ready to start accepting orders immediately," Broach said.
"We'll be in the office after the game Sunday, and then of course all next week."
The Panthers will host San Francisco on Sunday, Jan. 12, and the top-seeded Seahawks will host New Orleans on Saturday, Jan. 11.
"This is a great trip and a great experience," Broach said. "Seattle is a unique city with the Space Needle and Pike Place Market and so many great restaurants on the waterfront. And Century Link Field is known as the loudest stadium in the NFL, so the atmosphere will be great."
Cost of the complete package is $1375 per person based on double occupancy, or $1315 per person triple occupancy, $1288 per person quad, or $1549 private. Game tickets are in the end zone, but fans can upgrade to sideline seats, club seats or upper deck corners.
Broach Sports Tours, located in Charlotte, N.C., has been a leader in the sports and group travel industry for the past 21 years. It has taken groups to Panthers games since the team's very first year of existence, and took 643 fans to the Super Bowl in 2004.
BST is also working on packages should the Panthers advance all the way to this year's Super Bowl on Feb. 2 at Met Life Stadium in East Rutherford, N.J.
For more information or to reserve a spot on the tour, go to http://www.broachsportstours.com or call 800-849-6345.