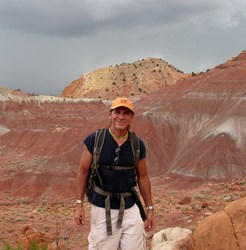 Wiz's knowledge of collections has been an invaluable part of the Gallery, not only for the Chiriacka estate, but for the all the artists we represent. - Debrianna Mansini, Casweck Galleries
(PRWEB) January 13, 2014
Wiz Allred is a graphic designer based in Taos, New Mexico. Although he is well-known nationally for his advertising and marketing design, he also specializes in art reference books, museum show publications and catalog raisonnés and he will be sharing his invaluable insight on collecting with Casweck Galleries visitors during Art Matters|Santa Fe.
Allred has been in the art and design industry for over 40 years. His most recent large-scale encyclopedic undertaking being, "Gene Kloss, an American Printmaker," (A. Eugene Sanchez, author, produced by De Teves Publishing). Within its two volumes, at over 300 pages each, is one of the largest and most comprehensive reference compilations of a single etcher's editions ever created and contains 482 of Kloss' 627 cataloged images (all color), 33 rare uncatalogued prints and 13 sketches spanning from 1924 to 1985. These volumes include a glossary of terms, alphanumeric cross-reference of all catalogued images, including updated dimensions, dates, edition numbers and media. It is the Kloss collector's bible, and is an essential asset to every Kloss collector. It is this kind of depth of understanding that Allred will impart to potential collectors and art lovers alike.
Allred's book designs encompass museums, galleries and publications of private collections worldwide. Among his artistic publications and promotions are such notable clientele as Walt Gonske, the Ira Moskowitz Collection, Don Brackett, Ron Barsano, the Fechin Museum, the John Suazo Collection for the Harwood Museum, Ernest Chiriacka for Casweck Galleries, along with countless other exhibitions and publications over the span of forty years.
Allred has designed and produced publications for clients in the United States, Italy, Hong Kong, Japan, Great Britain, Australia, Thailand, India, Vietnam, and South Africa. A catalog raisonné is the hallmark of an accomplished artist, and their publication is one of the most solid guarantees of the artist's longevity in a competitive art market. His expertise is something gallery owners, museum curators, sales associates and potential collectors can all learn from, and The Space at Casweck Galleries is proud to have him.
Wiz Allred will present on Feb. 8th, following a staged reading of "Hearts of the West~ Tales of the Mail Order Brides," directed by Janet Davidson of For Giving Productions. Davidson has brought several successful shows to the Space, including "Motherhood Out Loud," which brought down the house. There are two shows beginning at 7pm on Feb7th and 8th. Wiz will present after the show on Feb.8th and on on Feb. 9th, he will present at 2pm in the Space.
Please contact the Gallery for reservations- limited seating. Tickets for "Hearts" on Feb. 7the and 8th at 7pm are $15.00, with the talk following the performance of the 8th only. The Feb. 9th talk at 2pm without the performance is free of charge.
Casweck Galleries is known for its extraordinary collection by the famed ERNEST CHIRIACKA. Mr. Chiriacka was a famous illustrator during the heyday of illustrators, working for such great publications as SATURDAY EVENING POST, COLLIERS, and ESQUIRE. Mr. Chiriacka illustrated the ESQUIRE PIN UPS for many years and also illustrated over 550 pulp covers.
After that period was over, Mr. Chiriacka went on to great acclaim as an oil painter and sculptor, becoming known as the "Living Remington" while he was working. Mr. Chiriacka passed near the age of 97 in 2010. Casweck Galleries is currently the only place where is his great works are available for sale, although his work hangs in many Museums and private collections throughout the US and Europe.
Casweck Galleries is located at 203 West Water Street in downtown Santa Fe, NM. 505.988.2966 Space is limited and reservations are strongly suggested.