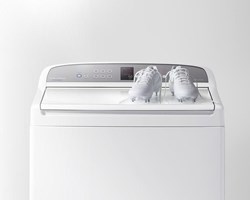 Our innovative WashSmart machine meets the very clear demand we've seen for a premium agitator clothes care product.
Huntington Beach, CA (PRWEB) January 09, 2014
Fisher & Paykel Appliances, Inc., a global design innovator and manufacturer of indoor and outdoor home appliances, announced it has introduced WashSmart™ featuring patented SmartDrive™ technology that provides ultimate load sensing and clothes care. Designed to meet the unique requirements of North American households where robust design and exceptional clothes care in efficient cycles are highly valued, WashSmart completes Fisher & Paykel's full line of premium laundry solutions and will be widely available February 2014.
"Our innovative WashSmart machine meets the very clear demand we've seen for a premium agitator clothes care product," says Scott Davies, brand marketing manager for Fisher & Paykel. "Priced at $799, WashSmart delivers a premium flexible finned agitator washing experience. It complements our newly released AquaSmart™ low-profile agitator washers ($899 and $999) and completes our full premium laundry solution, which is designed with North American households in mind."
WashSmart is powered by SmartDrive technology to deliver the best clothes care, reduce energy and water consumption and provide greater reliability. SmartDrive is comprised of just three main parts; small computer, flexible agitator and simple direct-drive motor that allow WashSmart to sense each load, use less water and run with fewer moving parts.
WashSmart features Eco-Active™ wash that boosts soil removal while saving energy. Its unique pumping technology re-circulates water and detergent through the clothes in a cascade-like pattern. This rapidly removes stains and dirt and is proven to be more effective at killing bacteria. The Eco-Active wash saves energy, achieving Tier 1 on CEE and Energy Star, but best of all it achieves a better clean.
The SmartTouch™ control panel allows at-a-glance selection of six pre-programmed cycles: Regular, Heavy, Delicate, Easy Iron, Allergy and Quick. SmartTouch allows the water level to be set manually or automatically, and provides further control with Soak, Softener and Bleach options.
Featuring a large 22-pound capacity, WashSmart helps save time and money by requiring fewer loads to wash all the laundry. Infinite water level sensing makes WashSmart very efficient with both small and large loads. The big basket easily washes bulky items like comforters and blankets.
Designed for quietness with pressed forms on the cabinet, polypropylene insulating base and sound deadening pads, WashSmart allows daytime or nighttime washing without disturbance by emitting less sound. WashSmart features a maximum spin speed of 1100 rpm (a substantial 386g force) effectively removing more water from clothes so they take far less time to dry.
WashSmart is designed with long life in mind. The combination of quality controls, a powder coated steel lid, stainless steel wash basket and formed cabinet and base plate means WashSmart delivers better usability and durability, as well as quiet and vibration-free operation. The Soft Close Lid makes opening and closing gentle and easy, allowing ergonomic and hands-free operation. The durable Soft Close Steel Lid is made of powder-coated steel that won't chip and is resistant to chemical corrosion.
WashSmart comes with a 2-year parts and labor limited warranty, plus an additional 8-year parts only limited warranty on the direct drive motor. Additionally, Fisher & Paykel provides 24-hour service so customers can speak to a real person with questions about their products.
About Fisher & Paykel
Since 1934, the Fisher & Paykel design heritage has been founded on a pioneering spirit and culture of curiosity that challenges conventional appliance design to consistently deliver products tailored for human needs. Incorporating outstanding performance and user-focused innovation, Fisher & Paykel and DCS by Fisher & Paykel appliance brands inspire people through indoor/outdoor kitchen and laundry products designed with real life in mind. Our brands incorporate innovative technologies driven from a passion to produce the most technically advanced, efficient and contemporary styled appliances. As pioneers of the world's first drawer dishwasher – DishDrawer® – Fisher & Paykel continues to pave the way for appliance innovation. Since the 1980s, DCS has defined cooking appliance innovation for the commercial food industry and designs commercial quality appliances for the home. Fisher & Paykel Appliances is a global company operating in 50 countries, manufacturing in the United States, Mexico, Italy, Thailand and New Zealand, employing over 3,300 people with revenue of more than $1 billion annually. For more information, please visit: http://www.fisherpaykel.com.