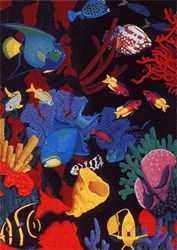 I am excited to re-introduce myself to wildlife and marine art enthusiasts with the formation of Wildlife Harmonies.
Trappe, PA (PRWEB) January 16, 2014
Artist Steve Shachter recently announced the formation of a new brand called Wildlife Harmonies, Wildlife Harmonies, where Shachter will offer wildlife and marine illustrations, educational products, fine art, and giftware to promote the importance of protecting wildlife.
Wildlife Harmonies represents the work of Shachter from present and past, highlighting a long history of successful affiliations with clients such as United Nations (UN), National Oceanic and Atmospheric Administration (NOAA), National Wildlife Federation, World Wildlife Fund, Nature Conservancy, Ocean Conservancy, National Aquarium, and the National Zoo. During his thirty years as an acclaimed artist, he has designed and illustrated a multitude of giftware and educational products.
"After taking some time to be with my family as a single parent raising three daughters, I am excited to re-introduce myself to wildlife and marine art enthusiasts with the formation of Wildlife Harmonies," said Shachter. "Through my art, I want to share my excitement and fascination with wildlife and nature. I am ready to begin new partnerships with non-profit organizations and wholesale buyers interested in art, giftware and education."
From cradling a baby tiger, to hours spent bonding with an orphaned wooly monkey in the Amazon, Shachter continues to gain inspiration from the natural world. After a decade of seeking to rekindle his passion, Shachter is excited to introduce his new endeavor, Wildlife Harmonies, a company which features his unique style of illustration.
The announcement of the new company commemorates the 15th anniversary of Shachter's role as the official artist for the United Nations' International Year of the Oceans initiative. In 1998 Shachter was selected by the United States Department of Commerce, NOAA to design the International Year of the Oceans poster, United Nation's International Year of the Ocean. He was honored by the former standing president, Bill Clinton, and others in ceremonies in Washington D.C. and California.
About Wildlife Harmonies:
Wildlife Harmonies is a resource for unique giftware, wildlife, marine art, and pet illustrations, fine art prints, and posters. Pennsylvania artist Steven Shachter has spent the last thirty years painting wildlife images featuring marine life, tropical and other wildlife scenes. The artist has concentrated most of his efforts in collaboration with conservation organizations, zoos, and aquariums. Shachter's paintings are done in acrylics and pencil on board. His unique style has been noted by national and international collectors. Shachter is a graduate of New York's Pratt Institute and a member of Artists for Conservation.