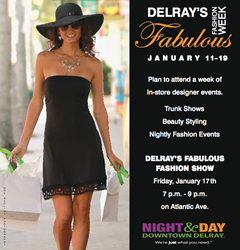 Delray Beach, Florida (PRWEB) January 08, 2014
Radio personality, Chris Cruz of Y100, is set to kick off Delray Beach's Fabulous Fashion Week on Saturday, January 11th, at 6:30 pm. The kick off event will take place in Worthing Park on Atlantic Avenue, directly in front of Salt7 and Park Tavern.
Delray Beach's Fabulous Fashion Week organizer's, Delray Beach's DDA (Downtown Development Authority), run by Marjorie Ferrar and Laura Simon, in conjunction with Jule Guaglardi, owner of ROXYLULU, an upscale women's boutique in the Pineapple Grove Arts District, have chosen Chris Cruz for his charismatic media presence. Chris's likability and talent are visible throughout his various media roles, such as his work with Y100, Jingle Ball, NBC6 and WSVN7 - Deco Drive. Chris is, to say the least, a polished and diversified media personality with an entrepreneurial spirit during his off time. Tune in to http://www.y100.com and http://www.939mia.com to see Chris Cruz in action.
Delray Beach's Fabulous Fashion Week events will showcase the kick off event in Worthing Park on Saturday, January 11th, plus a stunning resort wear and ready to wear fashion show and party at the Sand Bar located on A1A (the beach road) in Delray Beach on Monday evening, January 13th, at 7:00 pm. The next show will take place on Tuesday evening, January 14th, in the Atlantique Plaza near the intracoastal bridge showcasing dazzling fashions for the sophisticated and mature woman , followed by Delray's first ever menswear fashion show on Thursday evening, January 16th, in front of Solita Restaurant in the Pineapple Grove Arts District. Finally, finishing off fashion week with Delray's final fabulous fashion show on Friday, January 17th directly in front of the Colony Hotel. The final event will showcase the wonderful wears of more than 40 Delray merchants, worn by roughly 100 models from the South Florida area. The finale fashion show is certain to entertain and inspire and will be hosted by Chris Cruz and Jule Guaglardi, starting at 7:00 pm.
In addition to the fashion show events, Delray's individual stores will be filled the entire week with various fashion and beauty events taking place all over town - from in-store specials, to trunk shows, to meet the designers, to beauty make-overs, and much more. A calendar of events will be given out at the kick off event and be available at all downtown businesses while supplies last.
For more information about Delray Beach's Fabulous Fashion Week, the schedule of events and participating merchants, visit Delray's Downtown Development Authority's website at http://www.downtowndelraybeach.com or Like the Delray DDA on Facebook at fb.com/DelrayDDA.
About the Downtown Development Authority:
For the past 41 years, the Downtown Development Authority has assisted in successfully branding Delray Beach as the Village by the Sea. The Delray Beach DDA was created by Resolution 9-71, which became law on March 22, 1971, as a dependent district of the City of Delray Beach. "The DDA Mission is to enhance and stimulate balanced economic growth through position marketing activities that engage Downtown businesses, residents and visitors while creating a clean, safe, physical and experiential place to live, work and invest." The main areas of involvement in downtown redevelopment include: Marketing and Promotions; Economic development programs; Place Making within the DDA boundaries. The DDA also works closely with merchants to develop seasonal retail awareness campaigns to generate traffic and sales and has created a powerful website http://www.downtowndelraybeach.com and http://www.facebook.com/delraydda site that attracts thousands of visits weekly.