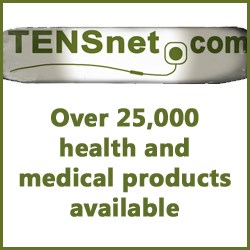 New York, N.Y. (PRWEB) January 08, 2014
Online medical equipment supplier TENSnet.com has recently been approved to display a doctor's seal of approval, a major benefit granted by consumer protection service Doctor Trusted.
To earn certification, TENSnet.com passed a strict application process that involves careful evaluation by a doctor of their website and any products or services offered. The review process involves predetermined criteria that include fair pricing and return criteria, reasonable medical claims, easy-to-locate customer service and protection of sensitive customer data, among others.
The entire process promotes consumer safety surrounding health products and services, and helps TENsnet.com strengthen trust in their brand as an online health business.
As TENSnet.com has passed each of these criteria, they are now eligible to display a web seal of approval on their webpage, which provides an easy, highly visible way for customers to check legitimacy on their own before making a purchase. This protects customers as well as business owners by elevating moral business practices and accountability.
TENSnet.com was created in 2007 and has supplied medical equipment and supplies to tens of thousands of practitioners nationwide. By providing over 25,000 products at wholesale prices, TENSnet is committed to helping reduce the overall cost of healthcare. The product line consists of electrotherapy, cushions, pillows, braces, gels, lotions, massage, exercise, rehab, hot and cold therapy and much more,
For more information, visit the company online at http://www.TENSnet.com. To learn more about consumer protection through Doctor Trusted, visit their website at http://www.doctortrusted.org.