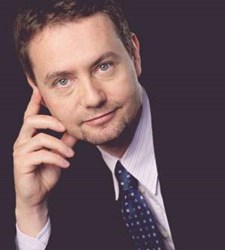 We can provide rejuvenation so effective and subtle that no one needs to know you've had a cosmetic procedure performed, but everyone will notice your refreshed, vibrant look. — Dr. Konstantin
New York, New York (PRWEB) January 29, 2014
"Health-conscious people are often the first to understand the value of facial cosmetic surgery," observes Dr. Konstantin Vasyukevich, widely recognized as New York City's premier facial plastic surgeon.
"People who have embraced a healthy diet and regular exercise often find that they're in better physical shape in their fifties than they were in their thirties. Did you know that in 2013, more than twelve thousand runners in the New York City Marathon were in their fifties?" he points out. "That's fantastic! But many people who are physically fit in their fifties are dismayed to discover that no amount of diet or exercise can counteract the process of facial aging.
"That's where I come in."
"Dr. Konstantin" specializes in the treatment of the aging face, eyelids and neck. He is board certified in facial plastic and reconstructive surgery, performing more than a thousand facial cosmetic procedures every year. He is among the busiest facial plastic surgeons in Manhattan.
Dr. Konstantin says that the simple pull of gravity and the natural loss of tissue volume over time are simply too much for diet and exercise alone to overcome. He says that when people are physically fit in their fifties, sixties, even in their seventies, it is frustrating for them to look in their mirrors and see that their faces reflect the reality of their years.
"When someone looks in the mirror and says, 'I wish I could look as young as I feel,' that is the perfect time to consider a facelift."
Dr. Konstantin notes that these same health-conscious people are sometimes reluctant to consider a surgical facelift, because they don't want to look like caricatures of themselves, with over-tightened skin and an obviously surgically treated appearance.
"The era of over-tightened skin is over," he reassures. "Modern facelift procedures are built around the principle of natural and seamless facial rejuvenation. With advances in aesthetic medicine and surgery, and with appropriate coordination of surgical and non-surgical techniques, we can provide rejuvenation so effective and subtle that no one needs to know you've had a cosmetic procedure performed, but everyone will notice your refreshed, vibrant look."
Dr. Konstantin says patients are sometimes surprised when he examines them and recommends non-surgical approaches. After all, he is a surgeon.
"Facial rejuvenation is all about doing what is best for the patient," he emphasizes.
"Some areas of the face are more amenable to treatment with non-surgical procedures like dermal fillers that restore facial volume and smooth wrinkles and lines from the inside. Muscle relaxing agents like Botox® help control the 'lines of expression' like crow's feet, smile lines, and furrowed brows that also contribute to signs of aging."
By selecting the right procedure or combination of procedures, Dr. Konstantin says it is possible for health-conscious men and women to show the world a face that is as fit and toned as the bodies they have cared for and kept healthy.
Dr. Konstantin Vasyukevich is a renowned cosmetic surgeon, in practice on New York's Upper East Side. Visit his website at http://www.bestcosmeticsurgeryny.com/, or call his office, located at 46 East 82nd Street, at 212 380 3634.