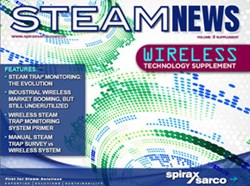 Blythewood, South Carolina (PRWEB) January 09, 2014
Spirax Sarco's December digital supplement of Steam News is now available and packed with exciting educational information about wireless technologies.
Highlights of the issue include:

The evolution of steam trap monitoring – Learn the history of steam trap monitoring and the different steam trap testing methods used.
Research study: Industrial use of wireless technology – Read this study provided by IMS Research about what wireless technologies are being used for industrial applications.
Wireless steam trap monitoring systems primer – View several important steps to making the installation of a wireless steam trap monitoring system a success.
Steam tip of the month – understand the difference between a manual steam trap survey verses a wireless system.
Additional content is also available including industry editorial, training opportunities, new product innovations, energy saving tips and much more to help improve plant production, sustainability and energy efficiency. To download the December digital supplement of Steam News go to: http://bit.ly/zYjZsw.
Have an iPad? Get the App version of Steam News via the Apple store. It features additional information including the sort out Spirax Sarco Design of Fluid Systems: Steam Utilization and Hook-Ups books.
Steam News Magazine:
Steam News is a digital magazine published quarterly for plant managers, facility and operation professionals and engineers in the manufacturing industry. The goal of this publication is to provide readers with the expertise and solutions to make informed decisions as they relate to the needs of their steam system facility.
About Spirax Sarco, Inc.
Spirax Sarco is the world leader in steam system management. The Company provides a broad range of fluid control products, engineered packages, systems expertise and site services for its diverse range of over 100,000 industrial and institutional customers. The Company helps its customers to optimize production capacity, reduce energy costs and emissions, improve product quality and enhance the safety of their operations. Spirax Sarco has strategically located manufacturing plants around the world and employs approximately 4,700 people, of whom around 1,300 are direct sales and service engineers. Further information can be found at http://www.spiraxsarco.com/us.