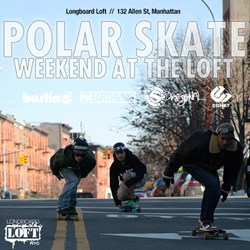 If there are two types of people in the world that are inherently tough by nature, it would be New Yorker's and Skateboarders.
New York, NY (PRWEB) January 09, 2014
Some would say that if there were two types of people in the world that are inherently tough by nature, it would be New Yorkers and Skateboarders. The recent cold fronts that have crushed the city have tested the will of all New Yorkers and challenged them to push through, to keep doing what they do to make a living and to keep doing what they love despite the brutal reality of the wind chill. For the longboarding community that means they stay skating, period. Layer up, do a dance, take a breath and roll. To celebrate all the grip tape and waffle sole warriors in the city, the Longboard Loft put together the 'Longboard Loft's Polar Skate Weekend'. Its a weekend of a rad events, sales, giveaways and, most importantly free hot chocolate.
Weekend Schedule:
All Weekend

Free Hot Chocolate - All day sugar highs and warm up fuel brought to you by the Longboard Loft Staff.
Winter Warrior Sale - Up to 25% off select products from east coast longboard brands including COMET, EARTHWING, BUSTIN & ORIGINAL.
$9 Bustin Beanies - Cut extra long to extend out of a helmet and over one's ears.
All Day Friday

Winter Warrior Sale Starts.
$9 Grip Jobs - New Blood Orange Grip will be offered in 5 Colors and applied to any board for just $9 gripped. Cold skating is brutal and grip is everything when someone can't feel his or her feet.
Free Spray Paint & Stencils - Going along with the Blood Orange grip event and adding an art feature, the Loft will also be supplying spray paint and stencils so customers can make their board even fresher. What's more New York than spray paint on skateboards?
All Day Saturday

Winter Warrior Sale Continues
Polar Skate Scavenger Hunt - Skaters looking for a fun time and a chance to learn about the NY skate scene should show up at the Loft on Saturday at 1pm to get registered. Teams will be made up of three and will be formed before the event. Participants are required to wear a helmet.
Hourly Giveaways - Every hour, on the hour\, the Loft staff will choose a random winner from the store and give away special prizes like bearings, slide gloves, wheels, apparel and more. The giveaway schedule will be posted at the Loft on Saturday morning. Winners must be present at the shop during the time of each giveaway to enter.
All Day Sunday

Winter Warrior Sale Finale - Customers can take an extra $5 off any board in the shop, including remaining sale items.
Big Phat Apparel Sale - The Loft is offering up to 50% OFF rad apparel from brands like Rayne, Bustin Boards, Push Culture, Caliber, Bear, Landyachtz, Wheelbase, Original and more.
No Charge Skanunu Tune-ups All Day - customers can bring their bearings back to life with complimentary Skanunu tune-ups courtesy of the Loft.