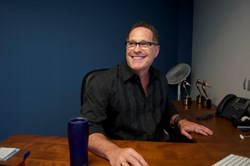 San Diego, CA (PRWEB) January 10, 2014
AdEase, a San Diego-based Marketing, Advertising & Public Relations agency is proud to welcome Ben Fruehauf as the new Creative Director. In his new role, Ben will oversee the agency's creative in both design and content.
Prior to joining AdEase Ben held key creative positions in mid to large size agencies such as Campbell Mithun in Minneapolis, and BBDO in New York and Chicago and he has worked on national brands including Burger King, Good Humor-Breyers, VISA, Pizza Hut and Frito Lay.
"Having Ben join the AdEase team is an exciting proposition for both the agency and our clients," said Stacey Nelson Smith, president and founder of AdEase. "With his experience and versatile skill set, Ben will not only play a major creative role in the success of our clients, but he will also nurture the talent we have in our creative department. It's a win-win."
Ben has already made his mark on several accounts, including an integrated campaign for the Los Angeles Zoo, It's Up to Us, a mental health awareness campaign in San Diego and Riverside Counties, and Know the Signs, a statewide suicide prevention campaign.
"The opportunity to work with such a great group of smart, talented and driven people was a key motivator in my decision to start this new chapter- Being in San Diego rather than Minnesota for the Winter had a bit to do with it as well. I look forward to everything that's possible here."
About AdEase
Founded in 1999, AdEase is a full service marketing, advertising and public relations agency committed to building brands while providing measurable return on investment. Headquartered in San Diego, with offices in Los Angeles and Sacramento, AdEase executes targeted marketing campaigns across all channels including broadcast, print, out-of-home, online marketing, social media, SEO, public relations, and promotions.