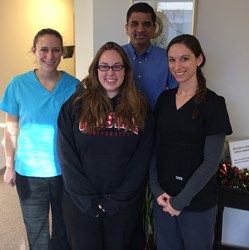 Dublin, OH (PRWEB) January 24, 2014
Columbus Clinical Research (CCR) is proud to introduce its partner site, Dublin Clinical Research (DCR). DCR is located off of Sawmill Rd. at 7293 Sawmill Rd Suite 150 Dublin, OH 43016.
Dublin Clinical Researchis an independent, multi-therapeutic outpatient clinical research center located in Dublin, Ohio. DCR has an extensive quality assurance program in place to ensure that the quality of both patients and the data produced are up to, if not surpass industry standards. DCR has passed many sponsor audits with no findings and are proud of the work produced.
Dr. Guduri, who has been with CCR for over 6 years, is the Principal investigator. He is supported by Director of Operations, Amanda Reeves, and Study Coordinators, Margaret (Meg) Rood, Arielle Blankenbuhler and Kristina Galaska.
DCR conducts phase II-IV studies in the therapeutic areas of COPD, Diabetes, Hypertension, Osteoarthritis and Asthma.
To learn more about DCR or to volunteer for a clinical trial, call 614-336-7880 today.