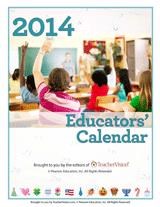 Our 2014 Educators' Calendar features celebrations, historical events and other key dates that will allow teachers to easily integrate them into instruction.
Boston, MA (PRWEB) January 08, 2014
The new year is here and so is TeacherVision's 2014 Educators' Calendar, where teachers will find the resources they need to actively engage their students in learning. Now available on TeacherVision.com, the calendar puts more than 1,000 holidays, historical dates and daily events right at teachers' fingertips.
Available as a printable to hang on the wall in the classroom, an interactive online tool or an RSS feed, all formats of the 2014 Educators' Calendar feature clickable links to cross-curricular activities, lessons, worksheets and projects for every event.
"Our 2014 Educators' Calendar features celebrations, historical events and other key dates that will allow teachers to easily integrate them into instruction," said Jess M. Brallier, publisher, TeacherVision. "Every year, thousands of teachers tell us how the TeacherVision Educators' Calendar makes putting together creative and engaging lessons easy and sparks learning in their classrooms."
The TeacherVision 2014 Educators' Calendar features month-long occasions as well as events to celebrate each day of the year. For example, for Martin Luther King Day, January 20, teachers will find resources that demonstrate the impact Dr. King has made on American society, 50 years after his famous "I Have a Dream" speech. Or they can celebrate the Chinese New Year with their students on January 31 using the numerous multi-cultural activities appropriate for all grade levels.
TeacherVision's 2014 Educators' Calendar is chock full of resources for turning the 2014 Winter Olympic Games in Sochi, Russia , into teachable moments. Themed activities for teaching this quadrennial event, which begins February 7, span math, reading and history. For Black History Month, also in February, the calendar features materials to honor the contributions that African-Americans—from Rosa Parks to Malcolm X—have made.
For Women's History Month in March, the 2014 Educators' Calendar emphasizes activities for discovering history's groundbreaking female figures, such as Anne Frank, Helen Keller, Maya Angelou and Sally Ride. For Youth Art Month, also in March, teachers can help students develop their creative abilities with arts and crafts projects as well as art history lessons from the calendar.
The 2014 calendar's resources highlight historical events as well as timely issues. For example, students and teachers can mark the anniversary of the first moon landing (July 20, 1969) by learning more about Neil Armstrong and Buzz Aldrin in addition to facts about the moon. Or they can use the calendar during Childhood Obesity Awareness Month, September, to spark discussions on the national challenge of childhood obesity.
The 2014 Educators' Calendar is one example of the many quality resources and classroom tools that are regularly added to TeacherVision. To receive new site resources, timely topics and exclusive content, educators can sign up for TeacherVision's free teacher newsletters: "Great Stuff for Teachers," "Special Offers for Teachers" and the "DailyTeach."
Teachers can also visit TeacherVision on Pinterest (http://pinterest.com/teachervision/), Facebook (http://www.facebook.com/TeacherVision), Google+ and Twitter to find more great ideas for integrating current and historical events into their teaching calendar throughout the year.
About TeacherVision (TeacherVision.com)
TeacherVision is one of the Internet's most popular teacher sites for trusted online tools, lesson plans, printables, classroom management resources, and skill-building exercises to help teachers save time and make learning fun. TeacherVision.com is dedicated to supporting children's learning in school and in life.
TeacherVision is published by Pearson, the world's leading learning company.