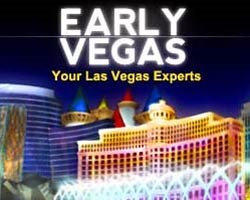 There is no bad time of year in Vegas, it's always fun & exciting, it's always hot, hot, hot and nothing gets old because something always seems new...
(PRWEB) January 09, 2014
When people travel to Las Vegas, they expect a good time. And not a "good time," but a reaaaally good time. No other destination on earth has created such expectation, yet Las Vegas, The Entertainment Capital of the World, Sin City... seems to raise the bar year after year.
"There is no bad time of year in Vegas. It's always fun & exciting. It's always hot, hot, hot, and nothing gets old because something always seems new," said Alex Turner, editor at EarlyVegas.com ([http://www.earlyvegas.com). "New nightclubs like Hakkasan, sophisticated clubs like Ghostbar and favorites like TAO, LAX, Pure, and Chateau, keep Vegas on the top of everyone's nightlife list. Concerts include world-class artists that perform to sold-out crowds night after night." Alex continued, "How about Rod Stewart, Celine Dion and Elton John all in the same month? Really? What about huge beach parties that make So Cal look like a sleepy campground? Better food than New York City - all within walking distance of acres of gaming floors where fun and laughter are contagious. And all at a price the average person can actually afford. That's Vegas in 2014!"
Today, EarlyVegas.com released its list of what's happening in Vegas in 2014. Here's an overview:
1 - January, 2014 - 2014 starts out with a bang with the biggest show of the year – the annual tech event, CES 2014, held at the Las Vegas Convention Center. CES officially kicked off on Monday, January 7, 2014, and runs through Friday, January 10th. The popular electronics, gadget and futuristic show attracts over 150,000 attendees each year and boasts a few fun facts including:
a – It would take more than 393 basketball courts to cover CES' more than 1.85 million square feet of space. For all the math whizzes, 393 basketball courts represents a lot of space.
b – Michael Phelps, the decorated Olympic swimmer, would have to swim 483 laps to cover the 15 miles of carpeted show floor... who can't swim 483 laps, come on Michael?!
c – Shaq is on board with CES. Shaq dropped in this year at the Monster press conference. Word is that Miley Cyrus will NOT attend this year given the dress code but who really knows.
d – The consumer electronics industry is a $200+ billion industry. That's 5,000 times larger than any jackpot ever won in Vegas and believe it or not, more money than even "The Donald" has.
2 – Concerts – Vegas attracts world class headliners every year and they keep getting bigger, better and there's more of them. Celine Dion, Rod Stewart and Elton John at Caesars Palace (how's that for big-time), Cher, the Eagles and George Strait perform (separately) at MGM Grand, Styx at The Palms, Boyz II Men at Mirage, Santana at Mandalay Bay, Diamond Rio and Marshal Tucker Band at the Orleans, Zac Brown Band and Linkin Park at the Hard Rock, The Letterman at South Point Casino Hotel & Spa, Dolly Parton at Buffalo Bill's, and the L:as Vegas Philharmonic at The Smith Center. And this is just a taste of the many, many great concert acts in Vegas in 2014.
3 – Annual Events – The Las Vegas Convention and Visitors Authority says that the total economic value of meeting and conventions in Vegas is over $7.5 Billion. Yes, that's billion with a capital "B." Not bad for the 31st most populous city in the United States. A few of the big events are:

CES in January
USA Sevens Rugby Tournament and the Las Vegas Pet Expo in February
NASCAR Spring Cup and Monster Jam Word Finals in March
NHRA Drag racing Series in April and October
Las Vegas Helldorado Days in May
FSE Vegas Cruise in June
45th WSOP Main Event in July
Official STAR TREK Convention in August
ABC Kids Expo 2014 in September
PubCon 2014 in October
Live Design International 2014 in November
Wrangler National Finals Rodeo in December
4 – Hotels, Casinos, Resorts – The Las Vegas hotel, resort & casino scene never gets boring, never gets old and always offers more than "the last time". Resorts such as the MGM Grand, Aria, Mandalay Bay, Bellagio, Paris, Caesars Palace, Hard Rock Hotel and Casino, Wynn, Monte Carlo, Mirage, Circus Circus, Luxor, Excalibur, the Palms and Vdara, continue to reinvent themselves through exciting décor, amenities, world-class entertainment, exquisite dining, pools, attractions and gaming options. Prices are always low compared to other global destinations and value high and over the top when it's all said and done.
For folks looking to pull the trigger on a trip to Vegas in 2014, the MGM Grand just ratcheted it up a notch releasing several promo code deals including "Vegas At Its Best" which offers up to 20% off rooms and suites, "Escape This Season In Vegas" offering a $25 Resort Credit per day, a Stag and Girls Weekend package that includes 15% off spa and salon services and a $25 beverage credit per day, "MGM Grand Does Summer Better" with rooms from $75/night, a $25 pool beverage credit and a comp entrance to WetRepublic, and a "AAA Special Offer" deal offering 10% off room rates to AAA members. MGM Grand touts legendary events, world-class dining and thrilling nightlife. Review current 2014 MGM Grand offers here: http://www.earlyvegas.com/mgm_grand_promo_codes.html.
5 – Shows – The Cirque du Soleil shows continue to grow in popularity in Vegas entertaining thousands of happy and awestruck fans each year. Shows include:
O by Cirque du Soleil at Bellagio
KÀ by Cirque du Soleil at MGM Grand
LOVE Cirque du Soleil at Mirage
Mystère by Cirque du Soleil at Treasure Island
Zumanity Cirque du Soleil at New York – New York
Michael Jackson ONE by Cirque du Soleil at Mandalay Bay
Zarkana by Cirque du Soleil at Aria
Review show options here: http://www.earlyvegas.com/las-vegas-show-tickets.html.
So Vegas it is in 2014. Happy New Year and see you on The Strip!
This article was written by Alex Turner, an editor at EarlyVegas.com, the local Vegas authority on how to get the best value when planning travel to Las Vegas. EarlyVegas.com features the most up to date specials, packages, deals, promo codes and coupon code offers designed to help travelers save and get the most value when booking hotel rooms, shows, things to do, and nightlife in exciting Las Vegas.