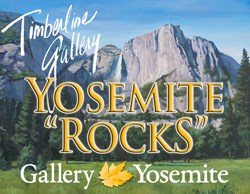 "The story of the Yosemite Grant is a very exciting one"
Oakhurst, CA (PRWEB) January 08, 2014
Events of all kinds help to celebrate the occasion of the Yosemite Grant 150th Anniversary both inside Yosemite and in the surrounding gateway communities.
The southern gateway, known as California's Gateway to Yosemite, is honoring the anniversary with many local events. Yosemite "Rocks" – an Artistic Learning Series is the first to kick off the New Year. Gallery Yosemite and Timberline Gallery will host this series on the 2nd Saturday of each month (special dates in April) from 2 pm to 4 pm thru September. This is a free event at the galleries in Oakhurst.
On January 11th De Karlen, a former National Park Service Ranger who currently works with the Yosemite Conservancy in the Wawona Visitor Center, will honor Yosemite's history by giving a talk about the human history that led up to the Yosemite Grant and beyond to today.
"The story of the Yosemite Grant is a very exciting one" says De. "For the most part, it started around the campfire in Wawona. Now, 150 years later, we are the keepers of this information and need to pass it on!"
De is very passionate about the Park and preserving its history. She wants everyone to know the history as well as the icons. "The more we learn, the more we can share and get others excited about this national treasure" De continues, "especially during this monumental anniversary year."
Other scheduled events in the Yosemite "Rocks" series are:
February 8th – Children's Event with drawing, beading & weaving
March 8th – How to See a Story by Zyg Zee
April 5 to May 4 – Sierra Art Trails presents Valley View: Yosemite Trails, Currents and Visions
May 10th – High Definition Range Photography by Andrew Erickson
June 14th – Panorama Photography by Mark Heliger
July 12th – Summer Children's Event with painting, art stations, stenciling, clay bears and more.
August 9th – Art Treasures of Yosemite Museum presentation by Richard Pettier
September 13th – Yosemite Museum, Yosemite history presentation
For more event information you can go to the Yosemite Sierra Visitors Bureau website at http://www.yosemitethisyear.com and for more information on the Yosemite Grant 150th Anniversary go to http://www.nps.gov/yose/anniversary.
-End-