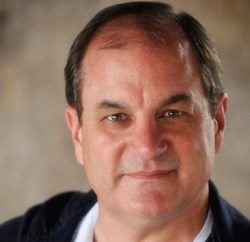 It's a delicate process to create a script that will speak to a broad audience while maintaining the integrity of the original, true story and respecting the one who gave it.
Colquitt, GA (PRWEB) January 09, 2014
Fans of Swamp Gravy are familiar with Gerard Stropnicky as a director, but come October, they'll get to experience his work as a playwright as Swamp Gravy premieres his new work, tentatively titled SWAMP GRAVY: LOST AND FOUND. Gerard Stropnicky co-founded Bloomsburg Theatre Ensemble in rural Bloomsburg PA, where he worked for 35 years, as a Director, Writer, Actor and Administrator, and where he helped build the company in to one of America's leading professional ensemble theatres.
He first came to SWAMP GRAVY, invited by original Swamp Gravy Playwright Jo Carson and original Director Richard Owen Geer, to visit in 1999, and kept coming home to Colquitt, where he directed LOVE AND MARRIAGE (2000-01), LAND BETWEEN THE RIVERS (2001-02), the 2009-10 revival of THE GOSPEL TRUTH, and THE BIG PICTURE (2010-11). He also designed the sets for LOVE AND MARRIAGE and THE GOSPEL TRUTH. Often with SWAMP GRAVY co-founder Jo Carson, he has directed and sometimes co-written large-scale site-specific original community story musical events in communities in Appalachia, the deep South, and Pennsylvania. With Jerry Grillo and Jo Carson, he spent five years working on the HEADWATERS project in Sautee-Nacoochee GA, serving as Director or co-writer or both. He loves the process: assembling huge and diverse casts, a vast array of ages, races, abilities, and neurodiversities to participate in performances that celebrate, entertain, and vibrate with fresh energy even as they address intractable issues, harking back to a theatre as old as Athens. He is a co-founder of the Network of Ensemble Theaters, now with 350 members nationwide, and central to the success of the vibrant ensemble movement. In 2010, he was named a USA Fellow. United States Artists was created by the Ford, Rockefeller, Prudential and Rasmuson Foundations to identify and support America's greatest living artists. He was also the recipient of the 2010 Temple Grandin Award for service to the autism community.
Current Swamp Gravy Artistic Director Katherine Willis is looking forward to the collaboration on the new script, after working as the Production and Stage Manager for Stropnicky's productions of SWAMP GRAVY: THE GOSPEL TRUTH and SWAMP GRAVY: THE BIG PICTURE. "Swamp Gravy uses true life stories of the community as its source material. It's a delicate process to create a script that will speak to a broad audience while maintaining the integrity of the original story and respecting the one who gave it. Gerard has a gift for listening as well as a deep understanding of our community and the people in it, thanks to the relationship he has had with us over the years. I'm excited that we have the opportunity to explore this new facet to our relationship," she says.
Joining Stropnicky as a co-writer is Georgia resident Jerry Grillo. Grillo is a magazine writer and playwright, who has co-authored (with Jo Carson and Gerard Stropnicky) all of the scripts for Sautee Nacoochee, Georgia's community story project, HEADWATERS: STORIES FROM A GOODLY PORTION OF BEAUTIFUL NORTHWEST GEORGIA; BIRTH, DEATH, AND PLACES IN BETWEEN; and DIDJA HEAR. He also wrote for the CRACKER CRUMBLE (annual comedy show for the Georgia Press Association) and was a frequent writer/performer in LATE NIGHT OFF CENTER (Sautee Nacoochee comedy/music show). He's also performed in a number of productions through the years. In addition to all the versions of Headwaters, he's appeared in (among others) MAN OF LA MANCHA, RECKLESS, THE ELEPHANT MAN, THE WIZARD OF OZ, THE ODD COUPLE and MOTHER HICKS, and directed COBB. A veteran journalist, he's won a bunch of writing awards (Society of Professional Journalists, Atlanta Press Club, Georgia Press Association) and has covered a wide range of topics, including agriculture, baseball, beer, business, cancer, death, depression, economic development, education, energy, flying robots, football, guns, health care, moonshine, movies, music, philanthropy, politics, premature birth, thoroughbred horse racing, and war, among other things. Jerry, his wife Jane and their son Joey live in Sautee Nacoochee, Georgia. Jane and Jerry's daughter Samantha (26) lives in Michigan with her husband Eric.
SWAMP GRAVY: LOST AND FOUND (title subject to change) will premiere at Cotton Hall Theater in Colquitt, Georgia on October 2, 2014. For more information about Swamp Gravy or to purchase tickets, please call 229-758-5450 or visit http://www.swampgravy.com. Debra Jones's SWAMP GRAVY: BROTHERS AND SISTERS is the current Swamp Gravy production, and can be seen March 7-29, 2014.