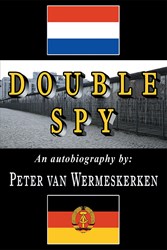 My story celebrates how happy and thankful we should be to live in a free country.
(PRWEB) January 13, 2014
"Back in the Netherlands, I reported to the BVD, which also recruited me. I was only 27 and had no formal education. Anyone trying to drink me under the table failed miserably, thanks to my epilepsy medication! My book reveals how unhappy people are living under dictatorship. My story celebrates how happy and thankful we should be to live in a free country," says author Peter van Wermeskerken.
"Following threats from Berlin, my wife convinced me to leave spying behind following our son's birth. Since then, my name has only surfaced in the STASI archives, but no place else," the author concludes.
Watch the video at: http://www.youtube.com/watch?v=a4xtAnvqvoo&feature=youtu.be
DOUBLE SPY (ISBN: 978-1-62857-021-2) is now available for $13.97 and can be ordered through the publisher's website: http://sbprabooks.com/PeterVanWermeskerken or at www(dot)amazon(dot)com or www(dot)barnesandnoble(dot)com.
WHOLESALERS: This book is distributed by Ingram Books and other wholesale distributors. Contact your representative with the ISBN for purchase. Wholesale purchase for retailers, universities, libraries, and other organizations is also available through the publisher; please email bookorder(at)aeg-online-store(dot)com.
About the Author: Peter van Wermeskerken was 14 when his father asked him to help report for his local newspaper. He was co-winner in an essay contest on agricultural cooperative in the EEC (1960). He worked at various newspapers before joining the New Zeister Courant in 1965, succeeding his dad. In 1970, he went to Algemeen Dagblad newspaper at Rotterdam, where he specialized in reporting on energy and the economy. In 1989, he was appointed to the chief economic desk. Since 2008, he and his wife have lived in Uelsen, Germany.
For more information, visit http://methespy.jimdo.com.
Strategic Book Publishing and Rights Co, LLC