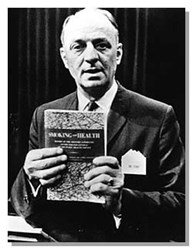 "Surgeon General Terry became a giant in the field of public health. Luther Terry is an American hero," says COA Executive Director Jerry Farrell.
Washington, DC (PRWEB) January 10, 2014
It saved millions of lives in the U.S. and abroad. Released 50 years ago, Surgeon General Luther Terry's report Smoking and Health has had the largest impact on health of any such report.
The report's release on January 11, 1964 led to a massive shift in public perception of smoking and tobacco. Since then, numerous reports were written about the harmful effects of smoking, secondhand smoke, smokeless tobacco, and more. The prevalence of smoking has dropped dramatically over the past 50 years, with lives saved and lives improved by cleaner air in public facilities.
It is fitting that Surgeon General Terry be honored for his groundbreaking work, and that of his committee members who wrote the seminal report.
On January 11, 2014, at Arlington National Cemetery, officers of the U.S. Public Health Service will celebrate the life and work of Dr. Terry. Acting Surgeon General Boris Lushniak will be joined by former Surgeon General David Satcher and scores of active duty and retired servicemembers. Together, they will lay a wreath at the grave of RADM Luther Terry.
The event is co-hosted by the Commissioned Officers Association (COA) of the USPHS, an organization which represents the interests of Public Health Service officers. COA Executive Director Jerry Farrell said, "After his report was released, Surgeon General Terry became a giant in the field of public health. It led to national and then worldwide efforts to reduce smoking and tobacco use, saving countless lives. Luther Terry is an American hero."
Luther Terry's legacy is closely tied with the uniformed service he led. In addition to sparking the movement which gave us cigarette warnings and smoking bans in public spaces, Surgeon General Terry's report demonstrated the continued excellence in the Public Health Service. The 125-year-old USPHS Commissioned Corps has grown into an incredibly diverse service with officers whose expertise ranges from infectious disease epidemiology to the engineering of health facilities in the most remote areas of the country.
The mission of the USPHS Commissioned Corps is to "protect, promote, and advance the health and safety of our Nation." Officers in the Commissioned Corps need only look to Luther Terry for the example of a public health visionary who exemplified the service's values of leadership, service, integrity, and excellence.