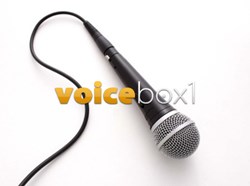 [Voiceover's] innovative concept has captured the attention of leading voiceover clients and talent, and is sure to gain more leverage as the competition stiffens in the industry.
Rochester, MI (PRWEB) January 09, 2014
Voicebox1 recently launched the perfect forum for gaining quick and easy access to the best voiceover talent in the industry. The inventive voiceover company has eased the search process for clients by certifying voice actors prior to being listed on the site so that clients no longer have to listen to hundreds of mediocre audio recordings to find what they're looking for. As the first and only online voiceover company to guarantee high-quality talent to clients by mandating certification provided by the highly-renowned voiceover specialists from VoiceCoaches, Voicebox1 is quickly gaining traction in the industry.
Over the past decade, significant advancements in recording equipment, software, and the internet have made voice acting a reality for more people who want to participate in the expanding market but have not previously had the access to do so. The voiceover industry continues to expand along with the growing demand in animation, video games, and other forms of entertainment that require high-quality vocal talent. As the availability of online resources for voice acting become more accessible and the demand continues to rise, the market for talent will likely become increasingly saturated and highly competitive, making it more difficult for companies trying to search through demo recordings to find the voice they want. Voicebox1 is a step ahead of the game with its unique qualification process, presenting clients with only the most skilled aspiring and established voice actors in the industry.
Nick Couture, co-founder of Voicebox1, was inspired to create the website to provide an opportunity for people with great voices who are missing the channel to utilize and be recognized for their talent. As a recording engineer and graduate of the Conservatory of Recording Arts and Sciences in Tempe, Arizona, Nick used his unique training and expertise to materialize his vision. "We wanted to build something that would provide opportunities and make a difference in some peoples' lives. Voicebox1 now makes this possible," says Nick Couture of Voicebox1.
Voicebox1 has teamed up with VoiceCoaches, a national leader in voice training, to develop a unique evaluation process that qualifies voice actors to participate on its website. In order to achieve certification and become a Voicebox1 member, aspiring voice actors must meet basic professional standards in skill, reliability, and quality audio delivery. Voicebox1 is the only online voiceover company to mandate its members to undergo this level of evaluation prior to joining the pool of talent. "The evaluation is rather simple to administer, but it truly raises the bar in voice acting and helps new voice actors set themselves apart from those that cannot meet these basic standards," says David Bourgeois, of VoiceCoaches.
Since its launch in early November, Voicebox1 has been steadily gaining members of talented voice actors. The company's innovative concept has captured the attention of leading voiceover clients and talent, and is sure to gain more leverage as the competition stiffens in the industry. It is simple and free for clients to sign-up for Voicebox1 online in order to search through the pool of demos. Payment is only authorized once the client notifies Voicebox1 that they are satisfied with the job, ensuring that every customer has a positive experience with the company.
For additional information on Voicebox1, go to: https://www.voicebox1.com/.
About Voicebox1:
Voicebox1 is an online voiceover website that provides a forum that matches qualified voice actors with clients looking for the top voice talent in the industry. The company's hallmark is their 10 point evaluation process performed in partnership with Voicecoaches, a professional and established voice coaching company. All voice talent represented on the website must be evaluated and meet professional standards prior to participation. Its unique evaluation process sets them apart from other online voiceover websites. Voicebox1 is based in the Metro-Detroit area in Oakland County, Rochester Hills, Michigan.
About Voicecoaches:
Voicecoaches is a professional voice coaching company with over 15 years of experience in voice and communication training. VoiceCoaches, a division of White Lake Music & Post provides voiceover consulting, demo development, and communication training to individuals and organizations throughout the US and Canada.