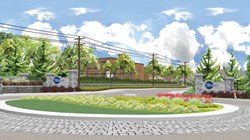 Our campus environment needs to reflect the quality of our academic programs and resources in order for the University to compare and compete in the higher education marketplace. - Rivier University President Sister Paula Marie Buley, IHM
Nashua, NH (PRWEB) January 10, 2014
The Rivier University Gateway Projects are a series of landscape design projects that will transform the Rivier campus, creating a distinct campus experience that reflects Rivier's Catholic heritage and history. Consistent with the University's strategic and campus master plans, the Gateway Projects will shape the pedestrian experience for students and all members of the Rivier community, as well as the arrival experience for first-time visitors.
"We only have one opportunity to make a first impression," says Sister Paula Marie Buley, IHM, President. "Our campus environment needs to reflect the quality of our academic programs and resources in order for the University to compare and compete in the higher education marketplace."
Designed by Pennsylvania-based landscape design and architect firm Derck & Edson Associates, the Gateway Projects include the enhancement of sacred spaces, as well as the creation of greens, walkways, and plazas.
Including physical gateways at campus entrances, as well as a variety of external enhancements that will serve as symbolic gateways to the Rivier experience, the projects will transform the campus along Nashua's South Main Street. Renovations to Resurrection Chapel, the creation of a Chapel Quad and Heritage Plaza, and enhancements to the Sunken Garden will serve as "Gateways to Faith," while improvements to the Campus Quad and Madeleine Hall, which serves as the Admissions Welcome Center, will provide "Gateways to Engagement" promoting increased student and visitor interaction with the campus.
The projects, which will be phased over several years, have begun with the renovation of Resurrection Chapel in October. Supporting the strategic plan goal of enhancing sacred spaces, the Chapel will receive a new exterior façade and complete interior renovation. James McCrery of McCrery Architects, LLC, an expert architectural practitioner with more than 18 years of experience in classical and church architecture, is overseeing the renovations.
---
Founded in 1933 by the Sisters of the Presentation of Mary, Rivier University is a Catholic institution recognized for distinctive academic programs, offering many of the region's leading programs at the undergraduate, graduate, postgraduate, and doctoral levels. With Nashua as our home and the world as our classroom, the Rivier experience ensures that students develop leadership skills as well as an awareness and appreciation of diverse cultures in New England and around the world.