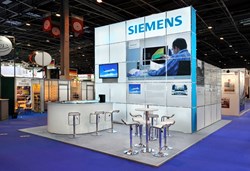 Absolute Exhibits will handle your entire exhibition experience across Europe at all-inclusive discounted rates.
Tustin, CA (PRWEB) January 09, 2014
Over 95% of the world's consumers live outside of the United States (US). Firms that export are up to 40% more profitable than those that don't. Over 70% of the world's purchasing power is outside of the US. US goods are manufactured in the most competitive environment on earth. It is time to think about challenging the European marketplace, 2014 is the year to exhibit in Europe. Absolute Exhibits will handle the entire exhibition process across Europe at all-inclusive discounted rates for expositions through December 31, 2014 when booked by April 15, 2014.
Companies manufacturing in the US as well as selling in the US can export. To find a target market abroad start at a major trade show. CeBIT Global Conference is one of the major Information Technology (IT) conferences that not only showcases recent innovations but lets customers talk with experts from around the world. One of the major themes this year will be datability. It is becoming more and more important to have a global presence so now is the time. Work with a US based Absolute Exhibits account executive in your native language and at local hours and all of the European work will be handled. Absolute Exhibits has an in house exhibit design team and fabricators in Europe that will meet customers needs on every level on the European show floor.
The Absolute Exhibits' European team is multilingual and composed of crafts people with exceptional fabrication techniques. Absolute Exhibits offers innovative trade show display solutions while remaining budget conscious. Our standard of customer service is unparalleled, the hallmark of working with Absolute Exhibits. Current monetary exchange rates are quite favorable, and the reception for American services and products are in high demand outside US borders. English is the dominant and accepted language of international commerce. The US dollar represents over 70% of the currency of use for foreign transactions between nations, even contracts not involving a US company. Far more US currency exists outside the US than inside its borders. This is the year, now is the time, take the first step and book a space at CeBIT 2014. Absolute Exhibits can help with every aspect of this process, providing the same level of quality in exhibition manufacture and service in Europe as they do in the USA.