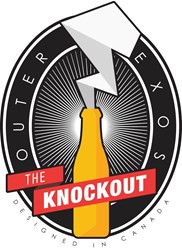 It's the New Year and with celebration across the US, including Colorado and Washington, we thought why not bring back the Knockout at a special price to commemorate recreational legalization
Denver, Colorado (PRWEB) January 09, 2014
"It's the New Year and with celebration across the US, including Colorado and Washington, we thought why not bring back the Knockout at a special price to commemorate recreational legalization" said Steve Bederman, CEO of The Marijuana Company (TMC) and CannaJuanaBuy.com (CJB).
When you chug a beer with The Knockout, it works as a gravity bong and your bottle fills with smoke. It's the only bong in the world that combines drinking and smoking into one stylish and functional product.
"We have heard so many customers rave about this awesome and fun product and wanted to discount this bong to begin the New Year as our recognition of the new legislation." said Fred Stacey, COO of TMC and CJB.
For one week only http://www.cannajuanabuy.com is offering the one-of-a-kind Knockout product for $40 - $10 off the original price until January 15th.
Want to join the party? Check out http://www.cannajuanabuy.com/the-knockout/. No coupon necessary.
About CannaJuanaBuy.com:
CannaJuanaBuy.com distributes ancillary products and services for the cannabis industry. Whether you're a grower, producer, dispensary owner or retail customer CannaJuanaBuy.com is a leading source for all things cannabis. Call us at 855-840-0862 or visit us online at http://www.CannaJuanaBuy.com