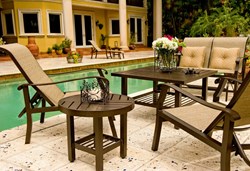 PatioLiving.com strongly commits to each brand sold.
Chicago, IL (PRWEB) January 13, 2014
PatioLiving.com has launched to meet the surge of expanding online consumers expecting quality outdoor furnishings. This online venture makes it even easier for those constantly on the go to reimagine their unique spaces. This growing trend has opened up new avenues for worldwide manufacturers to become a part of an individual's home in an ever changing marketplace, while maintaining that old world intimacy with consumers.
Integrating the latest technology into PatioLiving.com helps to streamline the purchasing process for new and existing customers. Director of Marketing, Robert Luce, believes the percentage of those buying home furnishings online will continue to increase exponentially thanks to these advances. "PatioLiving.com retains the aesthetic that comes with furniture buying," he says. "Our trained sales representatives offer you the same personalized experience you've come to expect at a traditional brick and mortar store. Our online showroom enables consumers to obtain a designer quality piece of furniture without compromising."
With a nationwide reach that stretches from one end of the country to the other, it was essential to provide the most detailed information when exposing each brand to a nationwide audience. "We're working with customers across the United States and in Canada, so maintaining the integrity of each of our carefully selected, exclusive brands is vital," says Luce. "Our descriptions give an in-depth look into the history of each brand, and the design process of each piece."
When descriptions and the convenience of shopping online aren't enough to sway a customer towards a certain patio piece, swatch samples for a majority of brands can be sent out at the shopper's request. "We understand the significance of seeing and feeling the material that makes up a product," notes Luce. "We can assist customers with the layout and dimensions by phone or live chat with our trained staff." And the constant training the staff receives by furniture manufacturers provides the most up to date and accurate information to consumers. "Our staff knows the product, and will work with the customer to resolve any issues should they arise," he says. "We have a very knowledgeable team that's continuously keeping consumers up to date on the newest lines from each vendor."
PatioLiving.com strongly commits to each brand sold. "We continue to use experienced and approved carriers with white glove delivery to ensure each piece arrives to meet each customer's expectations," states Luce. "All orders are managed from the time they're received until the time they're successfully delivered."
About PatioLiving.com:
At PatioLiving.com we pride ourselves on making sure our customers have the best possible patio furniture for their lifestyle.
We understand that not everybody's needs and wants are the same, so we work to make sure that we understand your situation before recommending a product. We strive to understand not just what items are available, and the differences between them, but why those differences matter to you.
Seaside to poolside, desert to forest, urban high rises to rural ranches. We understand your needs, and what it takes to make your patio come alive.
Contact: Robert Luce / Director of Marketing 
888.761.4777 x510 
sales(at)patioliving(dot)com