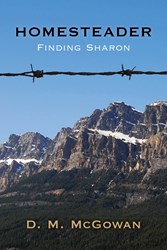 Gritty historical saga evokes Canadian frontier with vivid story telling.
(PRWEB) January 20, 2014
McGowan's story is also about Hank finding love, while learning that what appears on the surface is not always what lies underneath. The true grit of Western settlers is tested in this historic saga, in which the cattle company is using every trick in the book against them. In his fight against the land-grabbing cattle company, Hank decides he wants it all, including the woman he loves. He finds Sharon, who calls herself Miss Sadie, running a bordello.
The dreams of early homesteaders in the West were not always strong enough to survive. But with Hank on their side, the settlers unite in their battle to make their dreams come true. And does he get the girl? Find out in Homesteader: Finding Sharon.
HOMESTEADER: FINDING SHARON (ISBN: 978-1-60860-039-7) is now available for $14 and can be ordered through the publisher's website:
http://sbprabooks.com/davidmmcgowan/ or at www(dot)amazon(dot)com or www(dot)barnesandnoble(dot)com.
WHOLESALERS: This book is distributed by Ingram Books and other wholesale distributors. Contact your representative with the ISBN for purchase. Wholesale purchase for retailers, universities, libraries, and other organizations is also available through the publisher; please email bookorder(at)aeg-online-store(dot)com.
About the Author: born in Collingwood, Ontario, D. M. McGowan has lived in Alberta and British Columbia. He has been a cowboy, forest firefighter, heavy equipment operator, farmhand, gardener, road musician and businessman. He lives with his wife, Karen, children and grandchildren in Northern British Columbia, where he works as a commercial driver. He writes historical fiction about the settling and opening of Canada's West. His other books are The Great Liquor War and Partners.
Strategic Book Publishing and Rights Co, LLC