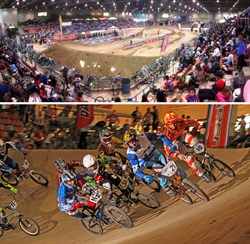 Getting the No.1 Pro title in USA BMX actually means more to me than the Olympic silver medal," admits Sam Willoughby. "It's not just a one-race title. To earn the No.1 plate here in America takes consistency all year long. It's a long and tough season.
Gilbert, AZ (PRWEB) January 10, 2014
The USA BMX racing season officially kicks off this weekend with the first national event of the season. Among those in attendance this weekend will be the Mens Olympic Gold medalist from both 2008 & 2012 - Maris Strombergs, from Latvia, and Olympic silver medalist Sam Willoughby of Australia. In addition, all five members of the 2012 U.S. Olympic team will be on hand to begin their individual chases for the USA BMX No.1 titles - including Minnesota's Alise Post, Colorado's David Herman, Nevada's Connor Fields and Californians Nic Long and Brooke Crain. This is the first race of the 2014 season, and will determine who this year's top title contenders will be.
Along with top Pros and Olympians, there will be more than 1,300 amateur racers - ages 2 to 70-plus, competing for the weekend's awards and national points Saturday's racing will kick off with the Strider bike class, for 2 & Under, 3, 4 and 5 year olds. On occasion, youngsters as young as 20 months old have raced on the shortened section of the track aboard these pedal-less push bikes.
At the other end of the spectrum, there will be plenty of parents (and even some grandparents) competing in the larger-wheeled classes for 30, 40, 50 and 60+ year olds.
The economic impact of this event will bring millions of dollars to the Reno economy and the event could not have taken place without the incredible support of VisitRenoTahoe. USA BMX holds two events in Reno each year - and will return to the Livestock & Events Center over Labor Day weekend in September.
Silver Dollar National Schedule:
The USA BMX Silver Dollar Nationals will be held January 10 thru 12, at Reno-Sparks Livestock & Events Center - located at 1350 N Wells Ave, Reno, NV 89512.
Friday: Action begins on Friday with practice throughout the afternoon and a pre-race starting at 5pm.
Saturday: Practice continues in the morning and National racing kicks off promptly at 11:30am with Strider (balance bike) racing for 2, 3 and 4 year olds, followed by the first rounds of Pro racing.
Sunday: Action begins at 8am, with the main events starting at approx 12 noon.