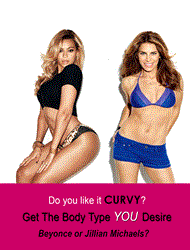 'Women who love curves love Moriche Palm Diet.' - Alexa Cruz (CEO)
Hollywood, CA (PRWEB) January 09, 2014
Many women out there want to be muscular and thin like Jillian Michaels or Tracy Anderson, but that's not the only shape women strive for. Some of us want voluptuous, shapely, and feminine curves like those of Beyonce or Sofia Vergara. Women trying to achieve this type of hourglass figure are hard pressed to find diet regimens on the market that cater to them and help them successfully achieve their fitness goal.
The Moriche Palm Diet is a new regimen developed specifically for female who wants a healthy, beautiful, and curvaceous figure. The Brazilian diet has gained popularity amongst the Latin, Hispanic, and African American demographics although women of all demographic praise the diet for help slim down without losing their shapes.
You won't find anything else like the Moriche Palm Diet currently on the market. This diet, formulated in Brazil, incorporates Brazilian berries that naturally detoxes & slims while filling out the natural curves of a woman's body.
Women come in all shapes and sizes, so choose the shape YOU, and let Moriche Palm help you hourglass your figure.