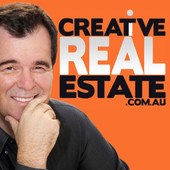 The old paradigm was to ask if buyers have their finance organised? The new paradigm is to ask if you can help them get their finance organised.
(PRWEB) January 09, 2014
Real estate advocate, Rick Otton, has urged Australian real estate agents to adopt the creative real estate principles already in place in the US. On a recent 'Street Smart Secrets to Real Estate Wealth' podcast, Mr Otton said a diverse and adaptable toolset was necessary to succeed in the field.
"If a real estate agent can't sell a house to a buyer, he gets no commission. Yet if he could say to the seller, 'Here are seven other ways you could do it,' he'll make money somewhere," Mr Otton said.
"Most real estate agents want cash for a house instantly, but they don't understand that the country hasn't got the cash. If they made it easier for people to buy a property for sale by being flexible with the way they get the cash, they'll sell three times more property."
"The old paradigm was to ask if buyers have their finance organised? The new paradigm is to ask if you can help them get their finance organised."
Houses for sale
Mr Otton is a real estate strategist, author, and businessman who has made a name for himself with his unorthodox methods helping property investors secure bargain properties and a lucrative property portfolio without capital, banking finance or experience in the field.
During the recent podcast, special guest Michelle, told listeners she was a former lawyer and real estate agent who was now exclusively using Rick Otton strategies.
She said around the time of the Global Financial Crisis, business suffered and it was time to try new techniques beyond the familiar routine of cold calling, organising auctions and receiving an unpredictable commission-based salary.
"I've really trained myself using Mr Otton's techniques to stop, think about a situation, and work out how I'm going to execute a conversation to get people to sign on the dotted line," Michelle said.
"One of the strategies I use is to make sure potential buyers qualify to even have a look at the property. By seeing if it's the right opportunity for them, we go to the next step, which saves everyone's time and energy and puts them in a different mindset of interest."
Mr Otton believes that as more real estate agents learn to think outside the square and become more receptive to modern, non-traditional property investment strategies, they will be seeing marked improvements in their clearance rates.
To hear this, and other podcasts from Rick Otton, visit CreativeRealEstate.com.au.
To download a free Power Property Profits Pack that includes Mr Otton's latest strategies and easy-to-copy tips, visit http://www.creativerealestate.com.au/freepack/.
About Rick Otton
Australian property investment specialist, Rick Otton, has been developing, sharing and teaching his innovative real estate strategies for 23 years. As the founder and CEO of We Buy Houses, which operates in the US, UK, Australia and New Zealand he is known for introducing cutting-edge techniques that have enabled previously disenfranchised people to get out of the rental cycle and into their own homes.
His innovative low-risk, high-reward approach to Australian real estate investing has been featured in a variety of television programs and magazines, including Today Tonight, Hot Property and Australian Property Investor. His real estate book, published in 2012, ''How To Buy A House For A Dollar', voted by Money Magazine and Dymocks Book stores as one of the Top 10 Most Popular Finance Titles for 2013.
As well as conducting free seminars, workshops and conferences in the UK and Australia, Mr Otton releases a weekly podcast on iTunes, Creative Real Estate. In these he shares examples of real transactions, and you can listen to his students share their own experiences using his strategies.
Go to CreativeRealEstate.com.au to listen to Rick's podcasts.