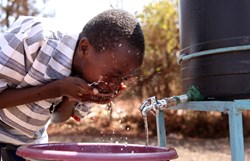 The project helped to keep children healthy and reduce diarrhea, so children could attend school.
Phoenix, Ariz. (PRWEB) January 15, 2014
Food for the Hungry (FH) helped 19,032 Kenyan orphans and vulnerable children access clean water, which improved their health and school attendance.
For generations, water supply and sanitation in Kenya has been characterized by low levels of access and quality, especially in urban slums and in rural areas where 48 percent of the population does not have access to clean water.
Many households receive intermittent water access as only 9 out of 55 water service providers in Kenya provide continuous water supply, and seasonal and regional water scarcity exacerbates the difficulty to improve water supply. In 2011, Kenya and four other surrounding countries experienced the worst drought on record in more than 60 years.
Due to lack of knowledge on water treatment systems, water purification is currently very minimal if available at all in these areas. In Meru, Isiolo and many other communities, water boiling is the only method of purifying drinking water. However, with many communities also facing the challenges of limited fuel for cooking, many people tend to drink water without boiling it, causing widespread parasitic infections and other diseases.
Food for the Hungry (FH) responded by starting the Maji Bora Project to increase access to clean water for orphans and vulnerable children. FH staff trained caregivers and older children on how to use PUR water purifying packets, helping 19,032 orphans and vulnerable children to have clean, drinkable water. These Kenyans also attended sessions about personal hygiene and sanitation practices and were encouraged to implement their new knowledge at home.
The project helped to keep children healthy and reduce diarrhea, so children could attend school. The project continues today, helping to promote clean drinking water and proper hygiene to orphans and vulnerable children.
Founded in 1971, Food for the Hungry provides emergency relief and long-term development programs with operations in more than 20 countries to help the world's most vulnerable people. Learn more by visiting http://www.fh.org. Social connections include http://www.facebook.com/foodforthehungry and http://www.twitter.com/food4thehungry.