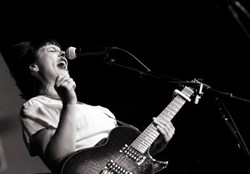 I often use water imagery in my songwriting and find inspiration from nature...It only seemed natural to share these songs in the same settings where they were inspired
Jensen, Utah (PRWEB) January 09, 2014
Adrift Adventures, authorized concessionaire of the National Park Service, announces two multi-day rafting trips in Dinosaur National Monument to feature performances by Folk Singer-Songwriter Shannon Wurst: a five-day Yampa River rafting trip, June 14-18, 2014; and a four-day Green River rafting trip, June 27-30, 2014.
A former raft guide in Colorado, Wurst said she enjoys combining her two favorite passions of running rivers and playing music.
"I often use water imagery in my songwriting and find inspiration from nature," Wurst said. "It only seemed natural to share these songs in the same settings where they were inspired."
According to Wurst, she scheduled the two dates after a successful concert-rafting trip through Adrift Adventures on the Green River last August.
"The river, campfire, food, hikes, games and acoustic music is rejuvenating," Wurst explained. "I wanted to offer another date to give more people an opportunity to participate."
The two rafting trips are open to the public, but are capped at 23 participants each, according to Travis Hochard, general manager, Adrift Adventures. He said cost for the five-day Yampa River trip is $845.00 per adult, cost for the four-day Green River trip is $785.00 per adult and both rafting trips are $300.00 for kids 12 and under.
Wurst will play folk music at a secluded camp along the river each night, while guides set up camp and prepare meals, according to Hochard.
"This is not exactly roughing it, but all rafting trips are leave-no-trace," Hochard explained. "Raft guides do all of the dirty work, while guests will get to relax and enjoy live folk music in a wilderness paradise."
Adrift Adventures will provide portable toilet systems with privacy tents, hand-washing stations, trash receptacles, fire pans, coolers, dry bags and meals. Tents and sleeping bag/pad combos are available for rent. Both rafting trips depart from the Adrift Adventures Warehouse in Jensen, Utah. Call 800-824-0150 to book.