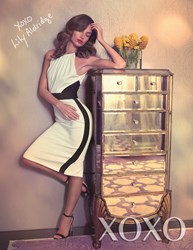 New York, NY (PRWEB) January 09, 2014
Lily Aldridge returns as the face of XOXO for the Spring/Summer 2014 ad campaign and will be featured in the brand's national print, digital and out-of-home (OOH) campaigns. The ad campaign was elevated by a dynamic new creative team comprised of Cathrine Westergaard leading art and creative direction, 8112 Studios with video production by Nicholas Cambata and photography by Douglas Sonders in New York City and post production provided by Vici London.
"I am really excited to continue as the face of XOXO for another season, said Lily Aldridge. "My experience with the XOXO team has been so much fun. The spring collection is amazing and I had such a great time shooting the campaign. I feel really lucky to be a part of the brand."
"We are extremely thrilled to continue with Lily," said Suzanne Desiderio, XOXO Division Head. "We really honed in on who the XOXO girl is and feel that Lily's look truly represents her – modern, smart, confident and sexy.
A 90 – second fashion film featuring the song "Be My Girl" by up-and-coming band Rebel Ship written exclusively for XOXO, along with behind the scenes footage and additional creative is available on XOXO.com.
The Spring Summer 2014 campaign is an evolution of the iconic "Hugs & Kisses XOXO" campaign which launched in the early 90's featuring supermodel Tyra Banks and have included legendary supermodels including Christy Turlington (1996), Amber Valetta (1997), Claudia Schiffer (1998), Alessandra Ambrosio (2006), Miranda Kerr (2009) and Erin Heatherton (2013).
With a reputation for making runway inspired designs affordable and accessible, XOXO continues to be the leading juniors brand for retailers. The national advertising campaign will launch in February in the March issues of Cosmopolitan, Nylon and People StyleWatch magazines. In addition there will be heavy digital, social and OOH advertising supporting the campaign and will drive to Macy's, Dillard's, Bon-Ton|Carson Pirie Scott stores as well as their online counterparts.
ABOUT XOXO
XOXO is a contemporary fashion brand that features straight off-the-runway designs that are smart and sexy for the fashion-forward female. It's a true quality "in-the-mix" lifestyle brand that embodies on-trend style that finds the right balance of 9-5 career appeal and 6-9 sexiness. For additional information on XOXO, visit http://www.xoxo.com or http://www.macys.com.