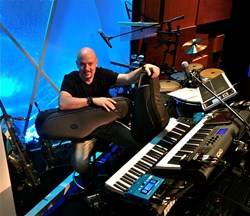 Petaluma, CA (PRWEB) January 14, 2014
Instrument case and gig bag maker Reunion Blues officially welcomes Arsenio Hall show vocalist and multi-instrumentalist Sean Holt. Hailing from Shreveport, Louisiana, Sean is renowned for his uniquely expressive vocal and saxophone sound. He has performed on saxophone, keyboard and vocals with A-list artists including Carlos Santana, Slash, Kenny Loggins, Jeffrey Osborne, The Neville Brothers, Charlie Wilson (Gap Band), Michael McDonald, Beth Hart, Arturo Sandoval, George Clinton, Carl Anderson, Tyreese, Michael Bolton, Michael Buble, and numerous others.
Prior to his current work with Arsenio Hall, Sean was the music director for the CW's show "The Next", and co-wrote and produced the theme music for the ABC series "The Vineyard".
Reunion Blues is proud to support Sean Holt, and welcome him to their growing family of artists.
"I still remember my first tan leather Reunion Blues tenor bag from 1981. I think I stood a little taller when I slung it over my shoulder. That bag is still going strong, along with the other RB bags in my studio. And now, I'm loving the new Continental bags - strong, light, and they look great. Thanks Reunion Blues." -Sean Holt
For more information please visit us at http://www.reunionblues.com.
Founded in 1976, Reunion Blues is the music industry's premier gig bag and case company. Reunion Blues offers an extensive product selection including over 100 models of cases and bags for fretted, brass, woodwind, strings and percussion instruments.
Reunion Blues is dedicated to maintaining exceptional quality, and is committed to product innovation, superior design and distinguished style.