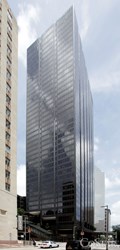 "It made sense for an AmLaw firm like Wilson Elser to be downtown, where other similar practices are located today. This location provides the firm with state-of-the art new offices that reflect its culture and with room to grow."
Houston, TX (PRWEB) January 09, 2014
Having signed a 13,500-square-foot lease in 2013, national law firm Wilson Elser has recently moved into new office space on 33rd floor at Two Houston Center (909 Fannin Street) – from 5847 San Felipe. The firm relocated to Houston's CBD from the Galleria area, where it had been located for more than 10 years.
Chris Tarzon and David Endelman, managing directors with global commercial real estate services firm Studley, represented Wilson Elser in the leasing transaction. Debbie Wilson of CBRE represented the building owner, Crescent HC Investors.
According to Tarzon, Wilson Elser was looking to move downtown after Powers & Frost merged with it at the beginning of 2013. "It made sense for an AmLaw firm like Wilson Elser to be downtown, where other similar practices are located today. This location provides the firm with state-of-the art new offices that reflect its culture and with room to grow." The firm has an option to the entire 33rd floor.
"The long term lease reflects the firm's commitment to Houston – both our clients and the legal team here," said Sharla J. Frost, regional managing partner of Wilson Elser's Houston office. "This move puts us in the center of Houston's legal community and provides us the flexibility to meet our long-term growth goals. We are excited to be a part of the burgeoning business development in downtown Houston and look forward to growing along with the city's expansion."
About Wilson Elser
Wilson Elser, a full-service and leading defense litigation law firm, serves its clients with nearly 800 attorneys in 25 offices in the United States, one in London and through a network of affiliates in key regions globally. Founded in 1978, it ranks among the top 200 law firms identified by The American Lawyer and is included in the top 50 of The National Law Journal's survey of the nation's largest law firms. Wilson Elser serves a growing, loyal base of clients with innovative thinking and an in-depth understanding of their respective businesses. http://www.wilsonelser.com
About Studley
Studley is the leading global commercial real estate services firm specializing in tenant representation. Founded in 1954, Studley pioneered the conflict-free business model of representing only tenants in their commercial real estate transactions. With over 60 offices worldwide, Studley offers expert advisory services, including brokerage, project management, corporate services and strategic portfolio solutions. Studley's unique approach examines every client's business to fully understand corporate objectives and optimize real estate assets. For more information, please visit http://www.studley.com and follow us on Twitter @StudleyInc and LinkedIn.
# # #