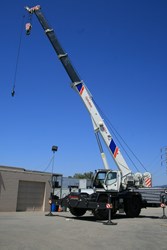 Houston, TX (PRWEB) January 09, 2014
Global Cranes, the exclusive distributor of Zoomlion Rough Terrain cranes, is bursting with news.
First, the 2014 models of Zoomlion RT's are here. New this year is the Zoomlion RT65, a 65 ton class RT. The new RT65 has a 27' longer boom, higher maximum tip, and significantly better chart than the best-selling RT60. In addition, the RT65 is over 30% less expensive than competing cranes like the Grove RT685. This crane, like every Zoomlion RT, was designed in the U.S., and comes standard with top-of-the-line parts and Global's industry leading warranty service.
Want to see the Zoomlion RT's up close? Global is bringing six cranes to ConExpo! Staffing the Zoomlion booth, Global will have Zoomlion crawler cranes: the ZCC1100H, with a 110 ton capacity, and the QUY260, with a capacity of nearly 300 U.S. tons. Also, nearly the full line of Zoomlion RTs will be on display, with the RT 40, RT 65, RT 80, and RT 110 all on the premises. CONEXPO, the world's largest construction equipment expo, is being held in Las Vegas, NV from March 4-8, 2014. Find Global in the SIlver Lot 1, space 3554.
Finally, Global has scores of cranes in stock and ready to ship. Now available at their Houston or Northern California yards, Global has just taken delivery of two dozen rough terrain and crawler cranes. With Global's transparent pricing, fully loaded models, and one of the best warranties in the industry, these cranes are moving fast. To check out the models available for immediate delivery and to see the pricing on the whole Zoomlion RT line, visit http://www.globalcranes.com.
ABOUT GLOBAL CRANES
Global Cranes, in partnership with Zoomlion, offers full lines of Rough Terrain Cranes and Crawler Cranes that meet ANSI ad CE standards. The Global team has more than 100 years combined experience in the crane industry and is poised to meet the needs of customers both domestically and internationally. Additionally, the company offers a variety of financing plans to aid in the procurement of its cranes. For more information, contact Global Crane Sales, 13201 Northwest Freeway, Suite 800, Houston, TX 77040, call 832-460-3939, email info(at)globalcranesales(dot)com, or visit the website at http://www.globalcranes.com.