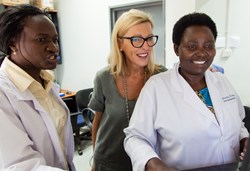 It's unanimous that the Pfizer Global Health Fellows have had a very positive influence on the Institute. They bring global best practices, and we quickly see the impact of their work on our day-to-day activities. - Mohammed Lamorde, PhD
(PRWEB) January 10, 2014
Accordia Global Health Foundation and Pfizer Inc. have collaborated for the past decade to advance the activities and impact of the Infectious Diseases Institute (IDI), Accordia's flagship center of excellence in Uganda. Among their most effective alliances is the Pfizer Global Health Fellows program (GHF). Pfizer's signature corporate social investment and volunteer program, GHF places employees with international development organizations to improve health services for underserved people in developing countries. During assignments, Fellows transfer their professional medical and business expertise in ways that promote access, quality, and efficiency of health services for people in greatest need. At the same time, Fellows gain insights into health challenges in emerging markets and build leadership skills.
Of the more than 300 Pfizer employees who have participated in the GHF program since 2003, 18 have been assigned to Accordia and placed at IDI, which has an estimated value of approximately $2.7 million in pro bono service. The nonprofit IDI, located at Makerere University in Kampala, works to build the capacity of health systems in Africa for the delivery of high-quality care, treatment, and prevention services—with a strong emphasis on infectious diseases—through training, research, and the development of new models of care.
Generating immediate results and long-lasting operational changes, the Fellows have advanced IDI's management and clinical systems, research capacity, and communications. They have worked with IDI staff to improve teaching curricula, quality assurance processes, information technology, facility maintenance, advocacy, and proposal writing. The Fellows worked to empower patients by creating a resource center and an advocacy council and by organizing community mobilization and sensitization.
The Power of Collaboration
In an effort to ensure that these improvements continue after they return to their jobs at Pfizer, the Fellows are often paired with IDI staff members to help them build skills and confidence. Andreas Kuznik, PhD worked with a team of IDI researchers interested in health economics, collaboratively writing four papers that have been accepted for publication in peer-reviewed journals. These include important findings on the cost effectiveness of reducing HIV transmission from mothers to babies and on syphilis screening in the antenatal care setting. Kuznik worked closely with Mohammed Lamorde, PhD, who now heads both the Clinical Trials and Health Economics/Cost-effectiveness units at IDI.
Fellow Inka Schuermann made improvements to IDI's Prevention, Care, and Treatment operations, implementing a quality assurance program and strengthening the capacity of research teams to conduct clinical trials. Schuermann worked alongside IDI's Rachel Musomba Zimaze, who went on to become the Institute's quality manager. "I believe Inka's commitment to helping us to develop quality assurance will be the foundation for continued emphasis on quality care in the years ahead," said Dr. Rosalind Parkes-Ratanshi, head of the clinic. "What she managed to do in five months was really incredible, and she leaves us with a strong system and a well-trained quality manager to continue the implementation."
Pfizer scientist and business development expert Janet White built on the Institute's strategic planning and clinical trial management. She helped create a five-year plan to financially support the organization's research program, tapping new sources of funding. She also collaborated with Allen Mukhwana, Research Senior Programme Administrator, for more than three months to augment IDI's research office and its ability to manage clinical trials. A comprehensive case study recaps the Fellows' work at IDI.
Moving Forward
Pfizer and Accordia announce the new placement of an employee from Pfizer's Nigerian office to serve on a five-month fellowship at the West African Infectious Diseases Institute in 2014. Based in Abuja, Nigeria, the institute is a collaborative multi-university organization with a mission to support and improve locally driven research and training across all infectious diseases. Kodjo Soroh, M.D., is a Medical Director, based in Lagos, Nigeria, for the Northeast African region. He will focus on outreach to and engagement of the faculty at WAIDI's member universities, 12 of the leading academic institutions in Nigeria. In addition, Dr. Soroh will work on developing bilateral agreements with these founding institutional members to support multi-institutional research collaboration, and promote the use of this research in setting strong health policy and ensuring effective practice and scale. This fellowship is a first for WAIDI and Accordia's initial placement in Nigeria.
Accordia Global Health Foundation is a Washington, DC-based nonprofit organization dedicated to solving Africa's pressing health needs by building and supporting sustainable African health institutions. Armed with a vision of creating a continent-wide network of centers of excellence in health, Accordia is helping to prepare a new generation of African health leaders to manage world-class research, training, and service delivery. Accordia, in conjunction with its cadre of distinguished experts from the world's leading academic institutions, provides guidance and develops management processes and systems that help these centers succeed. Accordia works in partnership with individuals, corporations, foundations, and governments to bring private-sector efficiency and academic innovation to its technical assistance activities.